Alluring traps veiled behind China's idol trainee recruitment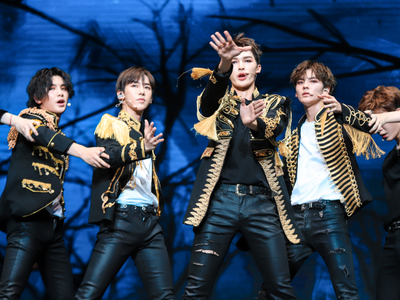 Nex7 from Yuehua Entertainment (Photo/Dfic)
Mar. 8 (NBD) – An announcement from Yuehua Entertainment ("Yuehua"), an entertainment group and talent agency, started trending on social platform Sina Weibo on Monday.
According to the statement, a WeChat account with an ID of "TDYFHRH" used the trademark of Yuehua without authorization from the company and released plenty of fake information.
The account recruited trainees in the name of Yuehua and earned illegitimate profits, it added.
China's idol-producing music reality shows such as Idol Producer, where trainees from entertainment companies gather together to compete for a chance to debut, have enjoyed a boom since last year. Young people who aspire to be stars deem being a trainee as the best shortcut to make the dream come true, but not aware of the fact that lying behind the shortcut are a slew of traps.
"I'm a scout from an entertainment company. I've seen your profile and you've got real class. Are you interested in being a singer or an actor/actress?" The prologue is not unfamiliar to most young people who have the experience of being a trainee.
Liu, an undergraduate, embarked on his dream-pursuing journey because of such remarks on his Weibo account. "Till today, I finally understand that was totally a lie. These scouts have been trained to put the same words to no matter whom they chose," regretted Liu.
Zeng, who has been a star scout for a decade, said to news outlet Beijing Business Today that the current market environment is much worse than before. "The number of people who want to be celebrities largely exceeds that of those who have the ability, which gives birth to scouting fraud." Zeng explained.
It is noted that the threshold for being scouts is pretty low. More than 80 percent of companies have no requirements on employees' educational background and working experience, and only demand them to be "outgoing and good at communication".
The routine of those scouts merely includes skimming over social networking platforms and alluring the suitable candidates to the companies.
After the scouts successfully entice the candidates to the companies, the so-called agents will promise them high-quality resources such as providing training projects in Korea and tutors from eminent universities.
26-year-old Zou was one of those dream chasers. In 2018, she signed a contract with one of those companies, only to find she was on a wild-goose chase.
"I never met the promised famous tutors and even had no syllabus for the training." Zou recalled.
"To be frank, these companies are essentially what people call 'bogus companies'," Zeng noted. "They craftily take advantage of young people's desire of being famous overnight to set a trap and will never made the oral pledges in the contract."
At the same time, these companies will repeatedly tempt trainees to pay money with attractive conditions such as shooting in TV programs and additional individual tutoring.
According to Wang Yushen, founder of a culture and media company, there are finally two options for those trainees. One is to continue training till the contract expires, while the other is to pour more money to the companies. But no matter how much cash they burned, it will end up with nothing, Wang said.
Email: wenqiao@nbd.com.cn