Owner felt fooled after Tesla's price cuts -'Take it easy, new markup coming'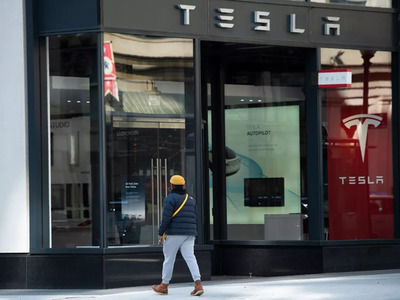 Photo/VCG
Mar. 12 (NBD) -- "I used to feel cool when driving my car out, but now I feel like an idiot," a Tesla owner said in a tone dripping with bitterness.
Ms. Yuan claimed she bought a Model X for over 900,000 yuan (134,072.2 U.S. dollars) in December 2018, and now the price had dropped by more than 200,000 yuan (29,793.8 U.S. dollars).
She also began to question the positioning of Tesla. "I am wondering what kind of car I'm driving, a premium one or a mid-range one," she said.
Her remarks received mixed reviews on the Internet.
Yuan's experience struck a chord with some car owners, but some people online held Yuan was exaggerating, joking that she would find it even more unacceptable if the tax on vehicle purchase was canceled this year.
Yuan's statement came after the U.S. electric car manufacturer's recent price cuts. In early March, the company slashed prices of its entire product lineup, with the price drop reaching as high as 341,100 yuan (50,813.4 U.S. dollars). This marks Tesla's third and also the biggest price reduction in China since November 2018.
Chinese Tesla owners were up in arms upon the announcement of the price adjustment, accusing the electric car maker of price fraud. In addition to lodging complaints via Tesla's official website and customer service hotline, some even made a scene at the company's experience stores or service centers.
"Price markdowns are disrespectful to early buyers and weaken Tesla's brand awareness," Yuan commented.
Though the loss couldn't be retrieved, Tesla's new decision could somewhat ease their feelings of depression and wrath of early buyers like Yuan.
On March 10, the electric car upstart announced it would be closing only about half as many stores than initially planned in a widely criticized move earlier this month to cut overhead and shift its whole distribution network online. In a recent internal teleconference, CEO Elon Musk warned that Tesla might not be profitable in the first quarter of 2019.
As a result, the car manufacturer will raise prices of its high-end vehicles worldwide by about 3 percent on average to offset the rising offline costs.
"We've received the internal notice concerning price increase, which will take effect on March 18," a salesperson with a Beijing-based Tesla experience center said when approached by NBD.
Why did Tesla change its strategy dramatically in just a matter of days?
The company's open letter might give a clue. In the letter, the carmaker explained that there are still potential Tesla customers who want to take test drives in brick-and-mortar stores, while it moves its sales network online.
However, with such a discretionary pricing policy, Tesla has drawn some criticism online. Some commented the carmaker is acting like a WeChat-based merchant, and some suggested introducing a Tesla futures index given the random price fluctuation of Tesla cars.
Such practice will do no good to the company but give customers an impression that the company is immature, an auto industry analyst told NBD. This, accordingly, will affect vehicle sales, the analyst added.
Email: lansuying@nbd.com.cn