Tan Kong Khoon, President and CEO of Hong Leong Financial Group, Malaysia: Chengdu will be the center of China's physical trade in future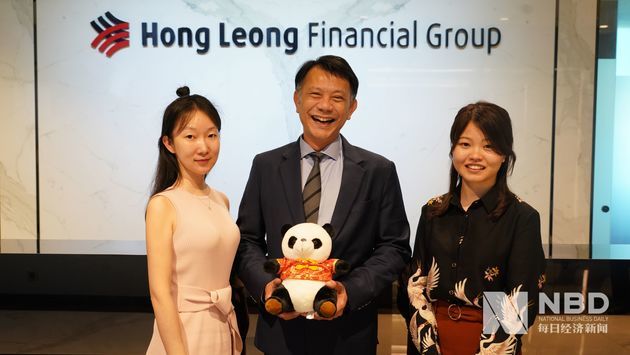 Tan Kong Khoon (M) Photo/Han Yang (NBD)
"Happy New Year, Gong Xi Fa Cai!" Tan Kong Khoon, President and CEO of Hong Leong Financial Group BHD (hereafter referred to as "Hong Leong Financial Group") greeted reporters with a warm smile when met for the first time.
It's mid-February, during Chinese New Year, reporters from National Business Daily visited Hong Leong Financial Group head office in Kuala Lumpur, Malaysia. From the "prosperity tree" to the Chinese knot; from lion dance to drums and firecrackers... Surprisingly, although in a foreign country, the reporter felt a strong festive atmosphere here.
As one of the countries along the Southern Silk Road, Malaysia has been in close relationship with China for centuries. The development journey of Hong Leong Financial Group itself reflects the history of financial exchanges between China and Malaysia on one aspect.
"Hong Leong was founded by Chinese over 100 years ago, and its English name "Hong Leong" was also derived from the Minnan language," a Chinese staff of Hong Leong Financial Group proudly introduced when leading the reporters for a branch tour.
Today, Hong Leong, the leading financial services holding company in Malaysia is maintaining closer ties and deeper cooperation with China, especially with Chengdu, the starting point of the Southern Silk Road.
Twelve years ago (2007), Hong Leong Bank Berhad (hereinafter referred to as "Hong Leong Bank"), a subsidiary of Hong Leong Financial Group came to Chengdu and became the second largest shareholder of Bank of Chengdu as a foreign strategic investor, and has been working together ever since. This is not only a classic case of successfully bringing in foreign investors by China financial community, but also a direct example of financial cooperation between China and Malaysia.
When asked about the most successful overseas investment of Hong Leong Bank, Tan almost blurted out: "There is no doubt, that is Chengdu, our cooperation with Bank of Chengdu."
Why Bank of Chengdu?
According to available statistics, as of the end of 2017, 10 Chinese banks had set up 68 first-tier branches in 26 "Belt and Road" countries, while 55 banks from 21 "Belt and Road" countries had established branches in China.
Transnational layout of financial networks and the interconnection of financial markets are bringing more opportunities for cooperation and development for financial institutions.
Many Years ago, Hong Leong Bank seized such opportunities in China, at that time, when Hong Leong Bank planned its "marriage" with Bank of Chengdu, it also faced two major competitors, namely DBS Bank Singapore and Credit Agricole Bank France. With its strong capital, excellent risk control, Hong Leong Bank had finally won the race and became a partner in Chengdu Bank.
Why did you choose Chengdu and Bank of Chengdu from Hong Leong Bank's perspective?
"At that time, the entire Hong Leong Financial Group was looking for opportunities to expand its regional business." Tan said, the very first thing when you talk about business expansion is to look for profit pool that available in the international financial centers, not only because these markets can give you the scale, it could also give you the talents needed. However, he also admitted that although the markets such as Hong Kong and Singapore are mature, there are many financial institutions and the competition is intense.
Tan believes that business expansion is not about simply "planting the flag" everywhere on the world map. "What we are looking for is opportunity and suitability, as well as collaborative epartners partner with mutual trust and common goals." Chengdu, which is in western China, has therefore come into our attention. "The tremendous potential attracted us to be a long-term investor."
It has proven that it was a right choice for Hong Leong Financial Group, or rather "can be considered to be very remarkable."
Tan told the reporter that the asset size of Bank of Chengdu today has increased almost ten times after Hong Leong Bank has joined; net profit has grown nearly 15-folds. As of September 2018, Hong Leong's overseas business, including Singapore, Hong Kong, Vietnam, Cambodia, etc., recorded a total profit contribution of almost 20 percent with significant portion from BOCD.
Besides, Hong Leong Bank has always been with Bank of Chengdu throughout the journey and successfully opened the door to the capital market. In early 2018, Bank of Chengdu was officially listed on the Shanghai Stock Exchange, making it the first Chinese A-share listed bank in Sichuan Province.
Tan thinks that the rapid growth of Bank of Chengdu is inseparable from the combination of international experience and local practice. "We can provide international experiences, but Bank of Chengdu has its local perspective which can offer some specific approaches to govern, and the company gets better when we work together for a common goal."
What is Chengdu's "magic wand for winning"?
With its extensive international business, why has Chengdu, a city in western China, become what Hong Leong Financial Group considers as "the most successful investment case"?
In Mr. Tan's view, the unique culture of Chengdu, solid foundations of science and technology as well as its regional geographical advantage are the key to its success.
Back to five years ago, when Mr. Tan was just became the CEO of Hong Leong Bank; his very first overseas business trip was to Chengdu.
"When I first arrived in Chengdu, my first impression was: Wow!" Recollecting his memory, Tan gestures with his hands acting and sound still very excited. "I was impressed that almost all if not all of the fortune 500 companies are here!"
"But what's more interesting is, people here don't seem care to rush around as people in Shanghai and Beijing do, life settles down to a more comfortable pace – which is probably why the high-tech industry is thriving here. Because technology development requires thinking not rushing."
"Since then, I travelled to Chengdu almost every year." After subconsciously slipped out the word, Tan quickly corrected himself almost at the same time: "No, actually, I visited Chengdu every year without fail, sometimes even twice a year. " with that urgency in his tone, as if the less of prudence earlier can't express enough the status of the city in his heart. To him, the city is too interesting, and full of vitality with rapid development.
As a bridge connecting eastern and western China, how can Chengdu further enhance its level of "globalization"?
"If asked for some suggestions on Chengdu's development particularly in financial sector, I think it is important to focus on science and technology besides its geographical advantages." Tan paused briefly before he responded.
Taking globalization of financial trade as an example, Tan pointed out that financial services are at a crossroad of development. With the application of Block chain technology and digital financial services, consumers, retailers and even contractors all have entered into the "Network", and Chengdu is the place with advanced technology.
Furthermore, eastern China has developed rapidly while the west is gradually opening up. Chengdu, as a hub connects the east and west part of China, with apparent geographical advantages, Tan continued: "People come to China to trade, do physical trade, be it manufacturing or buying products, it involves factory and supply chain, what that matters is to go to the very center of where the activities are and that very center in future, should be Chengdu."
Email: tanyuhan@nbd.com.cn