Waste tyres 'brougt back to life' in Hebei, presenting huge safety hazards
Mar. 15 (NBD) -- Hidden in several villages of Zhuozhou of Hebei province, bordering Beijing to the north, dozens of unlicensed tyre retreading workshops could sell tens of thousands of retreaded tyres per month, reporter with bqshenyidu, Beijing Youth Daily's new media unit, discovered the astonishingly horrible fact just before March 15, World Consumer Rights Day.
But recapped tyres, just like "time bombs" on the roads, will blow out at any minute, hence endangering the lives of both drivers and passengers.
Zhu Huanzhong, a taxi driver, replaced two tyres of the taxi with two used ones in early November of last year at a car repair booth at Shilihe Bridge North, Beijing at a price of 85 yuan (12.7 U.S. dollars) each.
According to workers of the repair booth, the used tyres sold to Zhu were from vehicle scrapping factories, and they have traveled 20,000 kilometers and could last another 40,000 kilometers at least. Zhu bought the story as the tyres, on the surface, have clear tread patterns with smooth edges, which indicates little tyre wear.
However, after a drive of 8,000 kilometers, the taxi's left rear tyre went flat. Fortunately it didn't cause catastrophic consequences as the speed was not fast.
Zhu found the flat tyre was one of the two he just replaced, and later learned the two tyres were both retreaded.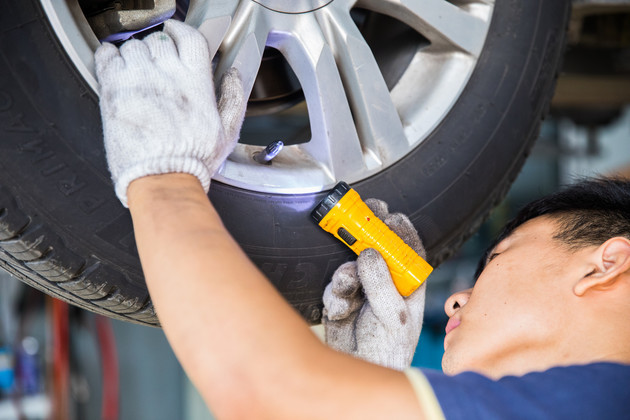 Photo/Shetuwang
An auto repair technician told him retreading is a way to give bald tyres a new life by replacing worn tread surface through processes including mending, grinding, and tread pattern sculpture.
There are over 10 roadside car repair booths around Shilihe Bridge North, primarily engaging in vehicle maintenance and tyre replacement. Their clients are mostly taxi drivers. Here, car repair fee is much lower than regular shops. For example, replacement of oil filter, air cleaner, and fuel filter costs only 70 yuan (10.4 U.S. dollars), less than half of the price at regular outlets.
A car mechanic told the reporter recapped tyres are usually sold at 80-100 yuan (11.9-14.9 U.S. dollars) each, mainly from Hebei's Zhuozhou.
At Zhuozhou's Liuhe New Village, roughly four to five kilometers away from Liulihe Town of Beijing's Fangshan District, there is a tyre supermarket consisting of multiple tenants.
The supermarket not only sells remolded tyres but also collects old or waste tyres for retreading. It has a large plot of land to pile up waste tyres, and those tyres are normally purchased at a price of 3 yuan (45 cents). There are more than 30,000 waste tyres, a supermarket tenant was cited as saying.
In several other neighboring villages, the reporter found tens of tyre recapping workshops, with some hidden in warehouses or farms, very difficult to locate.
Villagers said retreading workshops are all run by out-of-town people. Zhen, who owned a tyre recapping workshop at Dengqu Village, said he first conducted the old tyre business at an auto parts center in Beijing and moved to Zhuozhou five years ago for lax regulation there and a short distance away from Beijing that enables convenient pickup and delivery services.
A small workshop in Zhuozhou could retread over 1,000 tyres per month. With wholesale prices of recapped tyres ranging from 50 yuan (7.4 U.S. dollars) to 70 yuan (10.4 U.S. dollars), workshop operators could earn 20-30 yuan (3.0-4.5 U.S. dollars) on sale of each remolded tyre.
Used tyres being sold at Beijing's Caoqiao Huifeng auto parts center are all from these workshops, a worker with a recapped tyre distributor told the reporter, but the statement was denied by a used tyre shop at the Caoqiao Huifeng center, which claimed their tyres are sourced from vehicle scrapping factories, sold at 200 yuan (29.8 U.S. dollars) each on average.
In accordance with the regulation, tyres of scrapped vehicles shall not be retreaded for resale, as recapping has demanding security and environmental requirements. Retreaded tyres from small workshops have huge safety hazards.
Email: lansuying@nbd.com.cn