Advance ticket sales for 'Avengers: Endgame' hit $36mln in China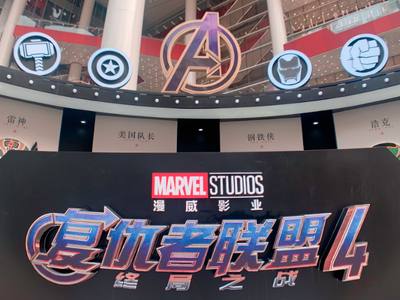 Photo/Tuchong
Apr. 15 (NBD) -- "Last time I didn't get the pink cat paw mug of Starbucks, and now I can't score a ticket for opening-day screens of Avengers: Endgame, either," so complained Huang Rui (alias) to NBD.
The newest Marvel's 'Avengers' film will premiere on April 24, but Huang found that the advance tickets for showtimes on the day in cinemas close to Huang's home or where she works had been sold out.
As of the time of publication, sales of advance tickets for the last installment of 'Avengers' films amounted to around 244 million yuan (36.4 million U.S. dollars), showed data on Maoyan, China's movie ticket app.
Viewing the schedules in theaters of China's major cinema chains including Palace Cinema and Shanghai Film Corporation, NBD noticed that the price of tickets to Endgame ranged from 300 yuan to 460 yuan, and demand for tickets was so high that many tickets scheduled at the odd hour of 3 a.m. had been sold.
This mirrors brisk demand for Avengers: Endgame tickets in North America.
The first-week advance ticket sales of the latest episode have surpassed that of the prior movie Avengers: Infinity War by fivefold, Fandango announced April 10. Some fans who are lucky enough to snatch the tickets have posted them on eBay, and the hard-to-get tickets are sold for as high as 15,000 U.S. dollars each.
Email: gaohan@nbd.com.cn