ACGN subculture on the rise in China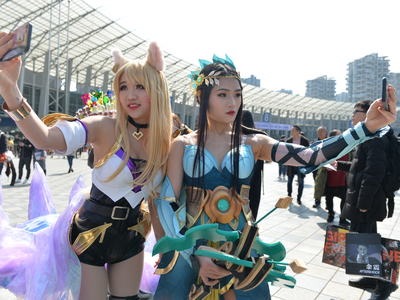 Photo/Dfic
Apr. 15 (NBD) – Crowds of people dressed up in anime outfits are filling the hall, with numerous cameras following them and exclamations with raptures lingering on.
It is a typical scene of an anime convention in China, where you can see many dressing themselves as Hatsune Miku, mascot of a Vocaloid software voicebank, Monkey D. Luffy, protagonist in popular Japanese manga series One Piece, or Naruto Uzumaki, leading character in Naruto, and other well-known virtual stars.
This indicates the booming development of the ACGN (Animation, Comic, Game, and Novel) subculture, a genre that sprang from Japan.
Beijing, Shanghai, Guangzhou and Chengdu are crowned as the four biggest capitals of the subculture in China.
According to a report released by the Forward Industry Institute, the number of ACGN users mounted to 250 million in 2017. Of them, there were 80 million hardcore fans (referring to those spending a lot of energy and money on ACGN contents), presenting a continuous climb.
Accordingly, the ACGN-based peripheral industry is on the rise.
During the Double 12 shopping festival last year, ACGN-related product sales on shopping platform Taobao recorded a year-on-year increase of nearly 90 percent. A costume shop, for instance, reaped more than one million yuan (149,004.6 U.S. dollars) in merely 19 minutes after the shopping gala kicked off.
Cheng Xu, a post-80 entrepreneur, runs an information aggregator of Garage Kits (GK), peripheral products of ACGN IPs. His platform sells hot products in addition to providing the latest news and product information of the ACGN sector.
"GK is a relatively niche market but a sunrise one," commented Cheng.
Data shows China's anime derivative industry is predicted to reach 65 billion yuan (9.7 billion U.S. dollars) in 2018 with the figure projected to surpass 100 billion yuan (14.9 billion U.S. dollars) by 2020.
According to Cheng, a Sun Wukong (money king in the classical novel Journey to the West) GK introduced from China's Taiwan, priced at 1,800 yuan (268.2 U.S. dollars) and vended in limited supply, was snapped up in the advance sale.
"It's quite often to sell out 300-400 items within one minute," Cheng noted. But more efforts are needed to help more consumers cultivate consuming habits.
Boasting huge potentials though, the ACGN-related industry is challenged by an immature market.
"China is taking the lead in GK design and production but lacks impetus from big IPs," Cheng Xu warned.
In fact, IP licensing is deemed as a pain point of the ACGN-based peripheral market.
"It often takes 3-6 months to secure an IP licensing from Japan," said Zeng Guangwen, deputy general manager of an anime peripheral company.
In addition to the tortuous negotiation, improving the conversion rate and profitability after getting the IP licensing will be a tough challenge.
Because of pirated derivatives, copyright royalties and deposits, gross profit margin of peripheral developers often stands between 8 percent and 10 percent.
Developing IPs independently could save some copyright royalties, Zeng suggested.
To create an attractive IP, developing high-quality contents, targeted marketing strategies and products better connected with daily consumer goods will be of vital importance, observed Luo Xiaoxing, assistant to the president of a Shenzhen-listed animation company.
Email: lansuying@nbd.com.cn