Chinese 'Dancing Nanny' app secures funding of over $14.9mln led by Tencent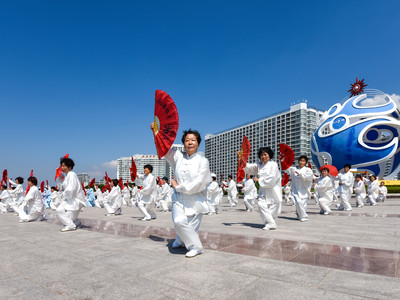 Photo/Shetuwang
Apr. 23 (NBD) -- Chinese square dance teaching app Tangdou announced Monday that it completed the Series C financing round to land over 100 million yuan (14.9 million U.S. dollars).
Investors include Tencent, GGV Capital, Xiaomi founder Lei Jun's Shunwei Capital, and IDG Capital.
Tangdou app, which started in 2015 providing tutorials for grannies and aunties dancing in squares, plazas or parks, has developed into an online community offering the variety of lifestyle contents.
Serving more than 200 million users, Tangdou holds over 4,000 square dancing activities every month with 500,000 attendees.
The platform has prominent advantages in user base, teaching resources and offline event planning, an industry insider in the technology, media and telecom (TMT) domain told NBD.
Since Tangdou completed its first round of financing in 2015, it has secured about 40 million U.S. dollars via four rounds of fundraising.
Behind investors' favor towards Tangdou is the huge potential of the silver industry.
Data shows that by 2030, the number of Chinese aged over 65 will reach 265 million, accounting for 18.51 percent of China's total population.
The country's elderly consumer market is estimated to hit 3.79 trillion yuan by 2020, according to a report from China's elderly association.
Bullish on the Internet start-ups like Tangdou which engage in elderly people's entertainment, fitness, education and social networking, investors have flocked into the promising sector, according to the aforementioned TMT industry insider.
According to incomplete statistics of NBD, over 50 square dance-related enterprises were set up and received capital input during the 2015-2016 period.
But the sector is at the budding stage of development, said the experienced insider. Most of such players shut down at the initial stage due to low traffic flow, small number of daily active users and uncertain business model. How to make profits from the market remains a challenge.
"Compared with the post-80s and post-90s generation, the aging post-60s and post-70s have heaped up a large amount of wealth in the past 40 years. They have strong spending ability, but their spending habits maintain more traditional and conservative," the person explained to NBD.
Although the consumption scenario to gather the middle-aged and the elderly square dancers has been created, companies still have a long way to grope for proper business models, the TMT insider noted.
Some platforms have been trying to make profit from e-commerce business or group tourism, but a slate of them failed.
For Tangtou, advertisement is the key source of its revenue, according to the company's founder and CEO Zhang Yuan. Moreover, the app is seeking other businesses such as TV shopping, offline marketing and tourism, Zhang added.
Email: gaohan@nbd.com.cn