Oracle starts massive layoffs in China, shifts focus to cloud computing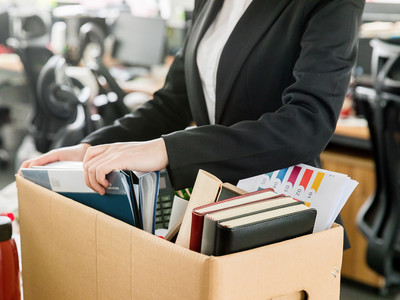 Photo/Shetuwang
May 8 (NBD) -- U.S.-based computer technology giant Oracle has started massive job cuts at China Research & Development Center (CDC), an employee from Oracle Certified Master (OCM) confirmed with National Business Daily (NBD).
It is reported that the first batch of over 900 workers is set to be eliminated, 500 of which are from the Beijing R&D center. Dissatisfying with the compensation plan, some employees on Tuesday put up banners to protest.
Industry insiders held the layoffs result from Oracle's intention to slash costs for traditional business segments and focus more on the cloud service business.
R&D jobs massively axed
Oracle held a teleconference on Tuesday, during which the director of Human Resources Asia Pacific stated the company is making business structure adjustment, and some have to leave their positions, disclosed news outlet 21st Century Business Herald.
A person familiar with the matter told NBD the job elimination involves researchers of R&D centers in cities including Beijing, Shanghai, Suzhou and Shenzhen. The Chinese sales team of Oracle will remain.
The tech firm offered compensation of salaries at the formula of N+6, which means employees can receive N+6 months of severance (N stands for employee's years of completed service in the firm).
Some senior employees objected the compensation plan, pointing out that the basic monthly salary calculated was capped at 25,000 yuan (3,698 U.S. dollars), far less than their monthly wages. Some protested the scheme with banners reading "High profit, why layoff?" on Tuesday.
Early in April, the company reportedly decided to close the entire CDC. There are about 1,600 engineers in Oracle China.
Known as the world's second largest software firm selling database management systems and enterprise software products, Oracle has rooted in the Chinese market for 30 years.
The Redwood City-headquartered firm has opened R&D centers in five cities in China to date.
A chief executive of a SAAS firm held the shutdown of CDC will not significantly affect Oracle's business in the oriental country.
"Oracle conducts R&D globally. Many projects are jointly developed by researchers from the United States, India and China, thus the company's Indian operations can easily take over research programs from China unit," the person explained, adding that the CDC is generally not responsible for Oracle's core business.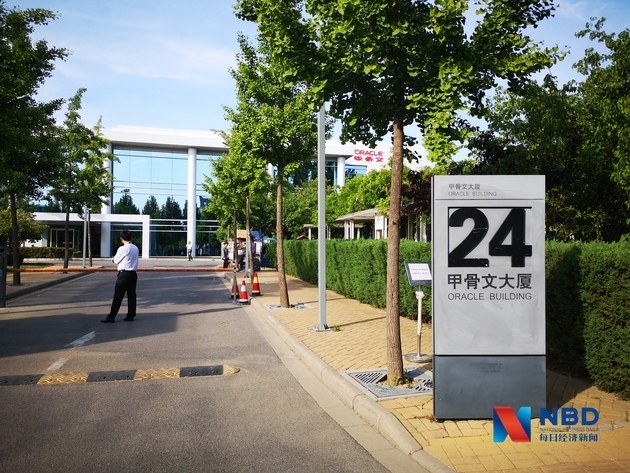 Oracle building [Photo/Li Shaoting (NBD)]
Slow growth in cloud computing business
According to Oracle's internal letter for CDC, the job elimination in China is a part of the giant's adjustment of development strategy.
Faced with fast changing business environment, Oracle is bound to timely optimize the R&D system and business model, it said.
The challenge for the R&D team is worldwide, affecting the U.S. headquarter and all overseas teams, the company emphasized.
Before Oracle's Chinese move, it has announced a plan to lay off 350 employees in the U.S. R&D center in May.
Industry insiders noted Oracle intends to cut jobs from its traditional business segments in a bid to save cost and focus more on the cloud service business.
Founded in 1977, Oracle along with other traditional technology enterprises is seeing a growing trend in the development of the cloud computing technology.
According to the latest financial results for the third quarter of fiscal 2019 ended February 28, 2019, the company's total revenues stood at 9.6 billion U.S. dollars, down 1 percent in U.S. dollar currency and up 3 percent in constant currency compared to the same period of the previous fiscal year.
It is noted that Oracle has posted the slow growth in the past three quarters in the fiscal year 2019.
Seeking for a new boost for its income, it is shifting its focus to cloud services.
Data shows that Oracle has poured more than 2 billion U.S. dollars each year on R&D of cloud computing since 2010 and even up to 5 billion U.S. dollars in fiscal 2016.
However, the software provider has been lagged behind top industry players.
According to statistics published by market research firm Gartner in August 2018, Amazon was crowned the leader in the cloud computing sector with a share of 51.8 percent, followed by Microsoft, Alibaba and Google. Oracle failed to get into the top five.
In the third quarter of fiscal 2019, Oracle's performance in the field remains lackluster.
Its cloud service and license support businesses reported an income of 6.66 billion U.S. dollars, up only 1 percent year over year, and revenues generated from the cloud license and on-premise license business declined by 4 percent to 1.25 billion U.S. dollars.
Email: lansuying@nbd.com.cn