Nobel literature prize winner Mo Yan's novel to be adapted into online drama for the first time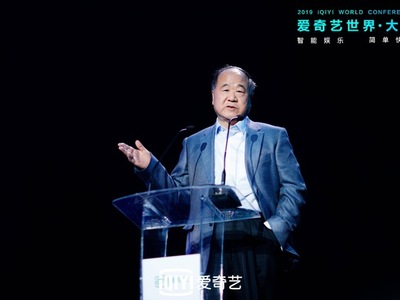 Photo provided to NBD
May 16 (NBD) -- "For a long time I thought of myself as a man out of date. But then I found that original literature works provide good stories for adapted films, TV series and traditional Chinese operas," said Nobel literature prize winner Mo Yan humorously at 2019 iQIYI World Conference.
National Business Daily learned at the conference that one of the Chinese author' acclaimed novels, Big Breasts and Wide Hips, will be adapted into an online drama for the first time.
As Mo Yan's most profound and poetic work, Big Breasts and Wide Hips tells the story of a mother and her nine children with different personalities and values through various stages of life, exploring the Chinese history through the 20th century.
Speaking from experience, Mo recognized the impacts and changes that Internet brings to people's lives and literature works.
"I have written many novels and some may be displayed to the public in virtue of online platforms. And in this way, I think my stories can be imparted with new life and vigor," noted Mo.
Mo's novels have long been sought after for big screen adaption including Red Sorghum, Nuan and Happy Times.
The story of Red Sorghum, which focuses on a young couple in a fictional village in Shandong Province during the 1930s, was adapted into a movie directed by Chinese director Zhang Yimou in the late 1980s.
Recalling the adapted film, Mo said that extracted essence of the original work, together with bold imagination and extraordinary expression technique, turns some seemingly inconspicuous details into the dazzling plot in a film, which can be counted as a successful adaptation.
"Also adaption of classic literature should keep abreast of the times," Mo added. "Good literary works have vitality and advance with the times, being able to present to new readers in a new era with new content and new connotation."
Email: gaohan@nbd.com.cn