One should maintain uniqueness to become world city of gastronomy: experts
May 16 (NBD) – "The China (Chengdu) International Food Culture Summit Forum is an important platform for Chengdu to show what the city boasts to the world," Carolina Quintana, Coordinator of Partnerships and Networks, Creative Economy Programme of the United Nations Conference on Trade and Development, told National Business Daily (NBD) on the sidelines of the event.
With a theme of "Civilization on the Tip of the Tongue", the Forum was held on May 15 in Chengdu, a southwestern Chinese city renowned for spicy food in addition to giant pandas.
It is a significant part of the Chengdu Panda International Food Festival that will run through May 22, bringing together honored guests at home and abroad to share insights on the food industry's contributions to economic development and building of a world-class city of gastronomy.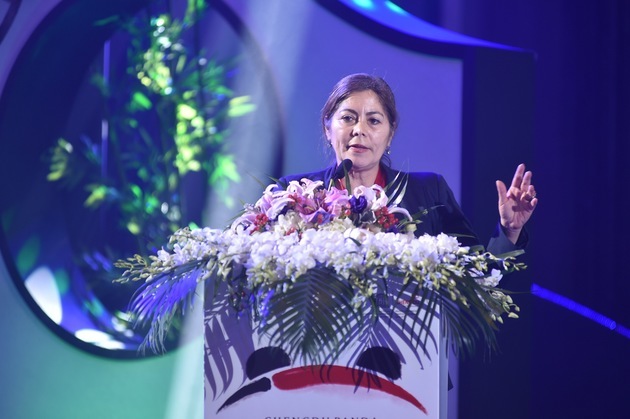 Carolina Quintana (Photo provided by the organizer)
Considerable economic value
Wandering on the streets and alleys of Chengdu, which was recognized as the City of Gastronomy by UNESCO in 2010, one could easily encounter dazzling restaurants and snack shops scattering around.
The gastronomy industry is playing an increasingly important role in the economic development of cities.
Statistics indicates that restaurants in Chengdu generated a combined revenue of 79.4 billion yuan (11.6 billion U.S. dollars) in 2017, accounting for 31.92 percent of the total of Sichuan. As of February 2018, the city has had 154,000 Chinese restaurants, ranking top in the nation. In 2019, sales of the catering industry in the city is expected to reach over 100 billion yuan (14.6 billion U.S. dollars).
"Gastronomy is important for local economic development," Quintana told NBD, adding the industry also promotes the growth of other industries such as tourism, culture and creativity.
Apart from the economic value, delicacies serve as a critical platform for communication and integration among different regions.
"Food presents the stories of a city and how the city is formed," said Zayd Minty, Former Director of the Arts and Culture Department in Cape Town, South Africa. "It is the foundation of human relationship and is what makes a city vibrant."
At the level of local integration, local people can create the unique stories of their city through food, thus making the city a brand and well-prepared to go abroad, Minty added. "Once that happens, the way the communication goes out will become much easier."
Quintana echoed the view, saying amid the internationalization of gastronomy, competition among different countries and regions is intensified, and consequently they will rush for innovation to adapt to new changes and demands.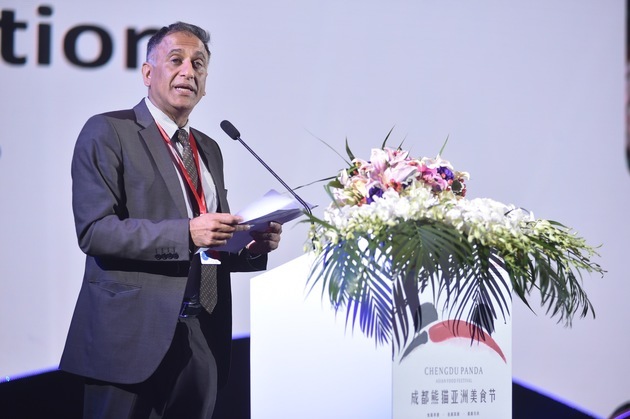 Zayd Minty (Photo provided by the organizer)
Diversity matters, too
Chengdu is speeding up efforts to build itself into a global city of culture, and part of the efforts is to become an international city of gastronomy.
"Through the festival I see the potential of Chengdu as a world capital (of gastronomy)," said Munyaradzi Chatikobo, Lecturer of Cultural Policy and Management and Drama for Life, Wits School of Arts, South Africa, expressing optimism about the Chengdu's future.
A world-class city should have its own characteristics and unique features, Minty said. "When speaking of world capitals, many would think about chains stores, McDonald's, Starbucks, etc.," he lamented. "But what we want to see is something more special."
He took for example Cape Town, the legislative capital of South Africa. Rather than merely bringing in big brands, the city developed its own coffee and beer-making culture from the ground-up.
"The point is that Chengdu should firstly maintain its uniqueness and then allow the participation from other parts of the world through platforms such as the festival," Chatikobo concluded.
In Quintana's mind, diversity also matters a lot. "One of the measurements, if we must say, of a world-class city, is whether people are coming to the city. The fact is that people travel to a city not merely for food but for diversified demands. In this aspect, Chengdu could allure tourists not only through gourmet dishes but also other elements like arts, exhibitions and music."
In addition, she emphasized the significance of embracing emerging technologies and leveraging on the data produced by those technologies to promote the food culture.
Email: lansuying@nbd.com.cn