Garbage cans become a hit as Shanghai enacts new trash sorting rules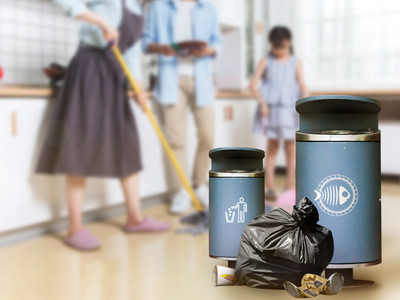 Photo/Shetuwang
June 25 (NBD) -- Shanghai has been making the headline because of its new garbage sorting regulations which will take effect on July 1.
Residents in Shanghai find it difficult to sort the wet garbage from the dry, as refuse used to be divided into glass, hazardous, recyclable and other trash prior to the new rules.
For the past several months, perhaps the most common question among Shanghai residents has been: "Which is the right bin for my rubbish?"
According to the regulations, individuals or units concerned shall take the responsibilities of sorting garbage according to the four categories of recyclable, hazardous, wet, and dry waste. Those who fail to follow the rules can be fined up to 200 yuan (29 U.S. dollars) if the offender is an individual, or between 5,000 yuan and 50,000 yuan for an offending company or institution.
To cope with the approaching regulations, residents start with buying a new trash bin.
Searching in an online store, National Business Daily (NBD) found that a trash bin which can take in wet and dry garbage separately is priced as high as 79.9 yuan, 8 times the price of a regular one. Despite the price tag, more than 5,000 have been sold within 30 days.
And, such dual-purpose garbage cans featuring high volume become hit products and are sold at around 200 yuan each. A popular Japanese 45-Liter trash bin recorded a sales volume of over 10,000 units in recent days and most of the ship-to addresses are Shanghai, according to media reports.
NBD noticed that by enacting the new rules, Shanghai becomes the first city in China to impose mandatory garbage sorting, with more cities to follow in its footsteps.
Earlier this month, China's authorities issued a notice to initiate household trash sorting campaign countrywide, saying that the garbage sorting and recycling mechanism will be set up in 46 major cities by 2020 and will be extended to all cities at the prefecture level and above by 2025.
Email: gaohan@nbd.com.cn