Juneyao Air opens Shanghai-Helsinki direct air route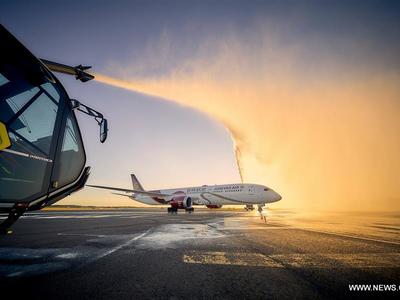 A Juneyao Air flight arrives at the Helsinki-Vantaa Airport in Finland, June 28, 2019. (Xinhua/Finavia/Pasi Salminen)
Juneyao Air opened Shanghai-Helsinki direct air route Friday, providing non-stop intercontinental flight service with wide-body aircraft.
The new direct air route will offer more flexible and convenient flight experience to passengers, Juneyao Air said.
The round-trip direct flight service is carried by B787 wide-body aircraft each day, linking Shanghai in east China with the capital of the Nordic country Finland.
Juneyao Air and Finnair have code-share cooperation on both the Shanghai-Helsinki intercontinental route and their domestic routes respectively in China and Finland.
Headquartered in Shanghai, Juneyao Air is a private Chinese airline. It operates a total of more than 140 domestic and international air routes.
In 2018, the airline provided air services to more than 18 million passengers.
Email: gaohan@nbd.com.cn