Dragon boat awakening ceremony held in New York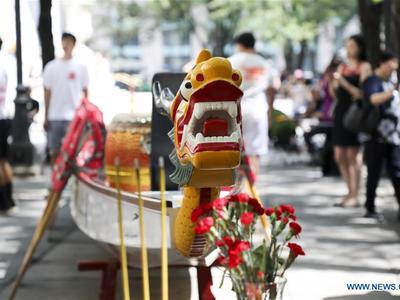 A dragon boats is seen during the dragon boat awakening ceremony of the 29th Hong Kong Dragon Boat Festival in New York, the United States, July 11, 2019. (Xinhua/Wang Ying)
A dragon boat awakening ceremony was held in New York's Bryant Park on Thursday as a prelude to the 29th Hong Kong Dragon Boat Festival to be held next month.
The eyes of a dragon boat figurehead were painted red to symbolize "dragons being awakened". It is a tradition celebrated each year to mark the beginning of the race season and to promote safety and good luck in the coming months of practice.
The two-day festival features martial arts performance, music of different genres including pop, rock and traditional Chinese music. Dragon dance will also be a feast.
More than 200 teams including those from New Jersey and Boston will compete in this year's races, which will take place on August 3-4 at Meadow Lake, Flushing Meadows Corona Park in the city's borough of Queens.
Email: gaohan@nbd.com.cn