Chinese ink wash paintings on display in Sarajevo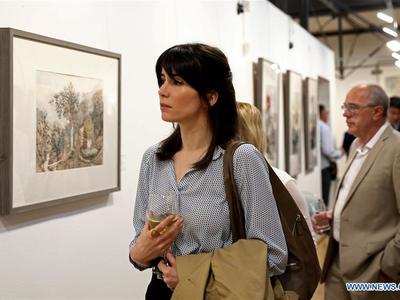 Visitors view art works during an exhibition themed "Enthusiasm for Ink Wash Painting" in Sarajevo, Bosnia and Herzegovina (BiH), July 15, 2019. (Xinhua/Nedim Grabovica)
A total of 60 pieces of Chinese ink wash paintings were exhibited here on Monday at the National Art Gallery of Bosnia and Herzegovina (BiH).
The paintings, which were the latest works by artists from the China National Academy of Painting (CNAP), were shown to public at the opening of an exhibition themed "Enthusiasm for Ink Wash Painting."
Ink wash paintings are an important carrier of Chinese culture, Vice President of the CNAP Zhang Jiangzhou said at the opening ceremony, voicing hope that the audience can recognize contemporary qualities in traditional Chinese ink art, and understand the unique quality and profound spiritual connotation of Chinese culture.
In recent years, the relationship between China and BiH has shown a momentum of rapid development and practical cooperation in various areas has been carried out, said Zhou Yan, political counsellor of the Chinese Embassy in BiH.
In order to promote mutual understanding between the two peoples, the Chinese Embassy in BiH will hold a series of cultural activities, of which this exhibition is the beginning, Zhou said.
Goran Behmen, minister-counsellor of BiH's Ministry of Foreign Affairs, said the exhibition brought him more than just surprises.
The expressive force of Chinese ink wash paintings is so rich and diverse, Behmen said.
Email: gaohan@nbd.com.cn