Artist passes on candle lights of storytelling folk art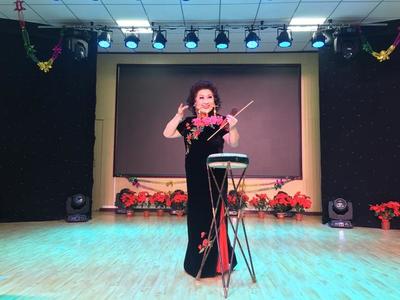 Yang Yun [File photo/Zhang Yuqi (Xinhua)]
Yang Yun, 60, wearing a black velvet cheongsam, sings a song on stage telling a traditional Chinese love story accompanied by drumbeats, while holding a delicate candlestick with three lit red candles by a thin bamboo stick between her teeth.
Yang's performance, known as "Handeng Dagu" in Chinese, with "Handeng" literally meaning holding candles by mouth, is a traditional art form of storytelling accompanied by drums.
This folk art form was almost lost because it requires the artists to keep the candles lit while singing the melodies clearly and in a poised manner, which is challenging.
Yang decided to learn the art in the 1990s. "I was totally attracted by the beautiful tunes of the operas, even though I could not fully understand the lyrics at my young age," said Yang. "I thought that I should learn and carry forward this traditional folk art."
Her performance deeply attracts audiences, especially foreign fans. As the candle cannot burn for a long period of time, Handeng Dagu is usually presented in short stories.
"For the foreigners, this short but graceful art is full of Chinese essence," Yang said.
Yang's tailor-made candlestick, which she designed herself, is the most eye-catching part of her performance. It is mainly made of polyvinyl chloride, a tenacious but light material, and has four silk flowers as decoration.
When she performs on stage, she has to hold the candlestick by a thin bamboo stick between her teeth. After years of practice, she can sing clearly and elegantly without blowing out the candlelight.
"The candlestick is actually very heavy. Your teeth need to have enough strength to hold it and the tongue should be able to move flexibly," Yang said. Her check often suffers from soreness after hours of practice.
Some plosive sounds in the lyrics may often blow out the candles. "The performer has to be very familiar with the lyrics and learn to deal with these 'challenging' words," Yang said.
Since September 2018, Yang has been invited to give lessons in the traditional storytelling art at two primary schools in Beijing to help the younger generations learn more about this traditional art form.
Many children would sing with a little drum for their family members after the lessons, and their parents are very happy to see their kids take pleasure in the traditional culture.
"It is challenging to keep the candles lit during the performance, and to brighten the way for the art to be passed on to the next generation," said Yang. "It is a lifelong career for me."
Email: gaohan@nbd.com.cn