2019 Xi'an international marathon to unveil in October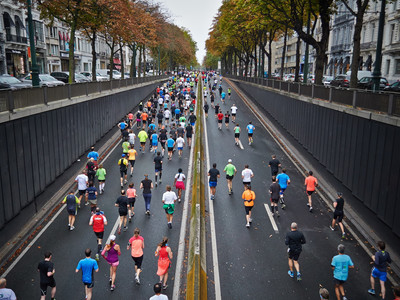 Photo/Shetuwang
The 2019 Xi'an international marathon will be held on October 20, the organizing committee of the competition announced here on Thursday.
The competition has three events, including a full marathon, half marathon, and a 7km race. The runners can register through the official website (www.xian42195.com) from July 30. The organizing committee will choose 18,000 marathon runners and 8,000 half marathon competitors via a lottery system.
As the home of the Terra-Cotta Warriors, Xi'an attracted 30,000 runners from 30 countries and regions to participate in the second edition of the competition in 2018.
As one of the most popular marathon competitions in China, Xi'an marathon entertains competitors with historical tourist attractions as well as famous local cuisine.
In the 2018's race, about 15,000 marathon runners started at Xi'an South Gate Plaza, ran past the Bell Tower, the High-tech Zone, and the Big Wild Goose Pagoda, before finally reached the Daming Palace National Heritage Park.
The organizing committee's officials told Xinhua that some patriotism elements would be added to the competition, celebrating the 70th anniversary of the founding of the People's Republic of China.
In addition, more Chinese marathon runners are expected to register in the year's race because of the hit domestic TV series named "The Longest Day In Chang'an." Chang'an is the ancient name of the Xi'an.
According to the Chinese Athletics Association (CAA) statistics, 1,581 marathons and related competitions were held in 2018 across China, creating an economic output of 74.6 billion Chinese yuan (about 10.86 billion U.S. dollars).
Email: gaohan@nbd.com.cn