Cisco denies axe of entire Shanghai branch, saying only some will be let go
Aug. 2 (NBD) – Cisco System Inc. (NASDAQ: CSCO), when reached by National Business Daily (NBD) Thursday, refuted the claims that the company will slash the entire Shanghai branch.
Some employees of the branch will be let go, a PR director with the American multinational tech conglomerate confirmed to NBD, but this is part of the company's worldwide business adjustment. "Apart from the Chinese operations, some overseas ones will initiate job cuts," the director noted, but didn't detail how many jobs will be axed and which divisions will be involved.
In a field visit to the San José-based company's Shanghai branch located at Changning District, NBD was told by several employees there that they were all unaware of the layoffs.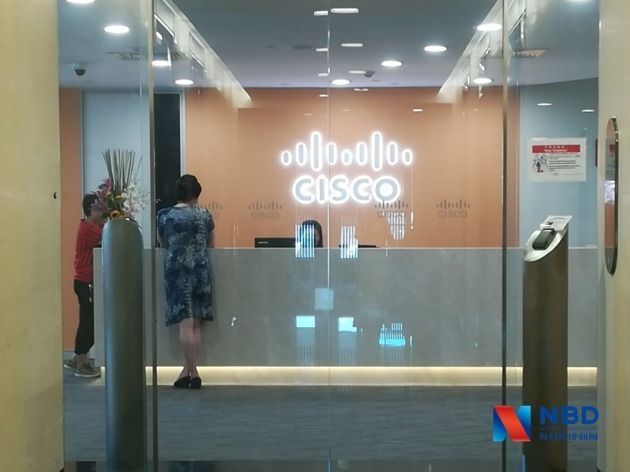 Photo/Zhang Yun (NBD)
With regard to the hearsay that each laid-off worker would be compensated with more than one million yuan (144,935.9 U.S. dollars) on average under a severance package of N+7 months of salary, the PR director disclosed that the compensation will be made in accordance with the company's rules, and he didn't know the detail.
Online reports also divulged that the job elimination resulted from Cisco's quitting the production of outdoor fiber optical boxes in the U.S. The director responded that it is a normal business practice to phase out old products and invest in new areas based on the technological development and market demand, but he had no idea of the exact product line that has been discontinued.
According to Cisco's financial report for the third fiscal quarter of 2019 ended April 27, the company reaped revenue of 13 billion U.S. dollars, up 4 percent from last year, and gained net income of 3 billion U.S. dollars, rising by 13 percent year on year. Both metrics beat Wall Street analysts' expectations.
Well-performed as Cisco is, it still faces problems of transformation since its core business is now challenged by Chinese tech giant Huawei.
It's noticed that 74.78 percent of Cisco's revenue was contributed by its traditional core products such as routers and switches, the exact territories where Huawei is making a large push. A report released by global information provider IHS Markit showcased that in 2018, Huawei toppled Cisco to be the top supplier in the global carrier-class router market with a 30-percent share.
Email: lansuying@nbd.com.cn