Chinese property management firm Poly Property files for HK IPO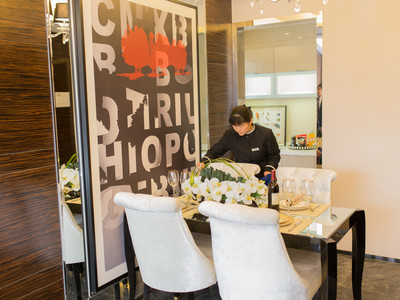 Photo/Shetuwang
Aug. 9 (NBD) – Chinese property management service provider Poly Property Development submitted the application for IPO in Hong Kong Wednesday.
National Business Daily (NBD) noticed that if it successfully rings the bell, Poly Property would become the 14th property management company from mainland China to get listed on the main board of the Hong Kong stock exchange.
Founded in 1996, Poly Property, a wholly-owned subsidiary of Shanghai-listed real-estate conglomerate Poly Developments and Holdings Group, engages in property management services, value-added services to non-property owners, and community value-added services.
According to the prospectus, revenue of Poly Property presented a rising trend in the past few years, standing at 1.718 billion yuan (245.0 million U.S. dollars) for the first four months of 2019, up 42 percent over the previous year.
The filing also unveiled that the company lacks diversified revenue streams. Proceeds from property management services contributed to 74.7 percent, 68.8 percent and 70.5 percent of the company's total revenue in 2017, 2018 and the four months ended April 30, 2019, respectively.
Moreover, compared with other Hong Kong-listed property management companies, Poly Property delivered a lower gross profit margin. Last year, the company reported a gross profit margin of 20.1 percent, while its peers A-Living Services and Country Garden Services achieved 38.2 and 37.7 percent, respectively.
But Wu Lanyu, executive director at Poly Property, said in a previous interview that the company focuses more on sustainability instead of simply high profits.
Apart from revenue source and profit margin, the market environment also poses challenges to Poly Property's listing, as now might not be a good time for IPO.
On June 30, the scheduled IPO of another property management firm Sichuan Languang Justbon Services was postponed.
An industry insider said to NBD that the delay might result from an under-subscription of shares, which could be caused by both market factors and overpriced stocks, in addition to window-period factors such as poor market trading atmosphere.
Furthermore, the price-to-earning ratio (PER) of property management stocks has fallen back. For instance, the PER of A-Living Services was over 50 times when it went public but now has descended to about 20 times.
Another insider told NBD that under such circumstances, investors would think more when subscribing for stocks.
However, Poly Property still has advantages since it's backed by China's centrally administered state-owned enterprise. "On the one hand, the company could cooperate with other central enterprises or local state-owned ones for expansion with the help of its background," noted Wu Lanyu. "On the other hand, as a leading central company in the domain, it already has an edge in security and emergency management."
Email: lansuying@nbd.com.cn