Tesla reportedly to raise prices of all models starting September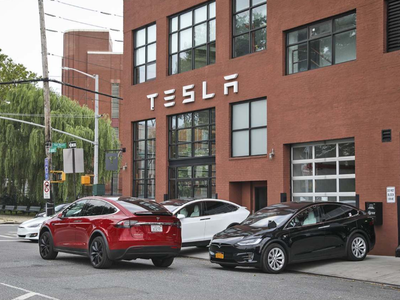 Photo/VCG
Aug. 9 (NBD) -- U.S. electric vehicle (EV) maker Tesla is to raise prices of its car models in China starting September and the Long Range Model 3 with rear-wheel drive will discontinue in the market, according to media reports on Thursday.
The price hike will apply to all ranges of Tesla models, including the Model 3 to be produced in the Shanghai Gigafactory, a salesperson disclosed. But the relevant person in charge at Tesla refused to detail on the price change.
The move came at a time when Tesla reported a loss in the first six months of 2019. The EV maker incurred a loss of 408 million U.S. dollars in the second quarter of 2019, which is higher than analysts' expectation, and the overall margins for its automotive products fell to 18.9 percent from 20.2 percent in the first quarter.
National Business Daily noticed that the EV firm is making all efforts to boost sales in China, as part of Tesla's strategy to reduce losses.
Tesla announced on Wednesday that the construction of its Shanghai plant is close to completion and the factory is scheduled to start operation at the end of this year.
Tesla said in a letter to investors that Shanghai Gigafactory would first produce Model 3 cars, and the annual output would climb to 500,000 vehicles when the plant is in full operation. Besides, UBS estimated the Shanghai-made Model 3 Standard Range could create at least 25 percent of gross margin for Tesla.
In addition, the company was revealed to launch its Full Self-Driving again in China at the price of 27,800 yuan (3,963.7 U.S. dollars), a driver-assistance system that become unavailable since last October amid criticism about its safety.
Industry insiders held the Chinese market will be the key engine for Tesla to turn profitable.
In the first half of this year, Tesla sold 16,100 cars in Chinese market, generating 1.47 billion U.S. dollars with 41.8 percent year-over-year rise, according to a filing it handed to the U.S. Securities and Exchange Commission. China is the second largest market for the automaker, after the United States where Tesla posted the sales volume of 5.81 billion U.S. dollars in the period.
The establishment of Shanghai plant is expected to improve Tesla's productivity and enhance its competitiveness in product prices, which helps the EV firm grab more market share in the EV sector in China.
Tesla's CEO Elon Musk is highly bullish on the growth of Chinese market, saying that in the future, Tesla's global headquarters should be in China and someday the automaker may hire a Chinese CEO.
Email: gaohan@nbd.com.cn