Shanghai Disney Resort mired in typhoon of public opinion as Lekima lands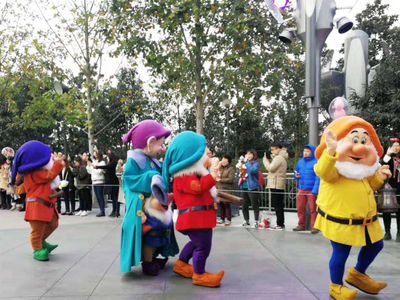 File photo/Tan Yuhan (NBD)
Aug. 12 (NBD)-- Shanghai Disney Resort was closed on Saturday (August 10) as Typhoon Lekima swept the city, but it was caught in another typhoon of public opinion complaining about the resort's dealing with sold tickets.
Visitors demanding refund instead of rescheduling
National Business Daily (NBD) noticed that the closure on Saturdy is the first time since the opening of the theme park in June 2016 and it has resumed normal operation since Sunday.
On Friday night, the Resort stated that visitors who bought tickets for Shanghai Disneyland on that day are able to reschedule their visits on any other day within the next six months. However, the rescheduling solution without the option of refundable tickets aroused public anger on Weibo, China's Twitter-like social media platform.
A user commented under the Resort's Weibo account, "My family bought 4 tickets for admissions on August 10 while we cannot make it within next 6 months cause our working and schooling schedules. We truly hope that the Resort can consider difficulties of visitors like us and we can accept partial refund. Thank you. We are suffering from the typhoon together and hope we can understand each other." The comment had received over 50,000 likes as of press time.
"Shanghai Disney Resort does not need to bear liability of contract breach for the closure due to the typhoon but consumers have the right to terminate the contract, namely requiring Shanghai Disney Resort to refund", partner Gao Fei at Shanghai Wenfeiyong law firm said to NBD.
After public roar sent the resort onto the trending list of Weibo, it rectified the solutions, saying that visitors who had tickets for August 10 could have a refund.
"No bringing outside food" policy invites lawsuit
On the same day, the theme park in Shanghai was reported to have been sued by a college student, surnamed Wang, against its policy of "no bringing outside food".
Earlier this year, Wang, a student of East China University of Political Science and Law was stopped by a staff member at entrance of the Resort and the latter requested to check her backpack. Wang then was not allowed to enter the Disneyland carrying snacks unless she paid 80 yuan (11 U.S. dollars) to deposit her snacks or ate all of them before her entrance.
One month later, the student sued Shanghai Disney Resort asking for 46.3 yuan in compensation for her discarded food and elimination of the rule. She held that the Resort infringed on her personal right.
Although the Resort had its "no outside food" policy written on its website but the student argued that she did not see the related regulation when she bought the ticket on a third-party platform.
In response to public attention to the ban on outside food, Shanghai Disney Resort on Sunday said that the rule is consistent with those of other Disney theme parks in China and other Asian countries, adding that visitors could have their own food and beverages in the rest area of the Resort but outside Disneyland.
Liu Junhai, professor at Renmin University of China held that before implementing such rules, the Resort must inform consumers in advance, fully respect the right of consumers to be informed, and fulfill the obligation of information disclosure.
The case is still in trial.
Email: gaohan@nbd.com.cn