China's Guangzhou Ballet makes NYC debut at Lincoln Center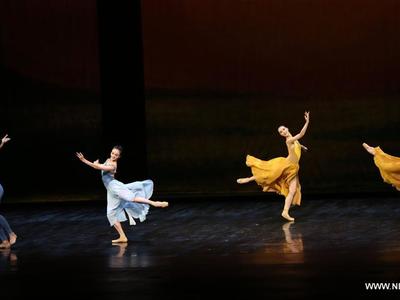 Photo/Qin Lang (Xinhua)
Guangzhou Ballet, a renowned Chinese troupe, made its New York City debut Saturday night at the David H. Koch Theater of Lincoln Center, bringing top-tier Chinese ballet to over 1,800 spectators.
Featuring a combination of Western and Oriental styles of ballet, Guangzhou Ballet presented two productions at one show.
Carmina Burana was directed by Chinese American ballet choreographer Jiang Qi based on the famous namesake European classical music piece, while Goddess of the Luo River, created by Canadian choreographer Peter Quanz, is a ballet adaptation from an ancient Chinese love story.
"We are seeking the revitalizing effects from the culture collision between the East and the West," Zou Gang, chief and art director of Guangzhou Ballet, told Xinhua about his troupe's intention.
"There's one thing in common of the two distinctive pieces: they are both dotted with the movements of Chinese folk dance and elements of Chinese culture," he added.
Established in 1993, Guangzhou Ballet, which is based in South China's Guangzhou City, has toured more than 20 countries and regions around the world and won over 40 international awards and over 150 national awards.
"Performing at the Lincoln Center is a remarkable moment for Guangzhou Ballet," said Zou. "It's the pride of Guangzhou and the glory of Chinese ballet."
Jiang Qi, a professor in Ballet at the University of Cincinnati in the state of Ohio, moved from China to the United States in 1985 as a ballet dancer. He said he enjoyed going back and working with Guangzhou Ballet in creating Carmina Burana.
"The body language of Chinese ballet dancers is slender, soft and contained compared with their western peers, thus adding a fresh taste to the western-style piece," he noted.
Peter Quanz, who has done three pieces for Guangzhou Ballet, said that he looks for "images that touch my heart, that I connect with as a foreigner" while working with a Chinese dance company.
"My goal is to provide a foreigner's window into China, and I try to learn as much as I can of Chinese culture, and try to give (the audience) an entry point to understand this incredible culture," he added.
The show was brought to New York by the China Arts and Entertainment Group Ltd (CAEG), the largest company of its kind in China in the field of entertainment and arts exhibition.
CAEG said it hopes the program will help boost communication between Guangzhou Ballet and its peers in the United States, and promote cultural exchanges between the two countries.
The performance will run again on Sunday afternoon at Lincoln Center.
Email: gaohan@nbd.com.cn