109 mln serves in 6 months, Chinese hotpot restaurant chain Haidilao's shares up 100 pct year-to-date
Aug 22 (NBD) – Shares of Haidilao International Holding Ltd (06862.HK), a popular Chinese hotpot-restaurant chain, climbed Wednesday by 7.69 percent, closing at HKD 34.3 (4.4 U.S. dollars) per share, after the company released the interim financial report of 2019.
On Thursday, the shares continued to edge up by 0.15 percent to HKD 34.35 per share. Since the beginning of 2019, the stock price of Haidilao has risen by 100.8 percent. As of date, the market cap of the company reached around HKD 182.1 billion.
National Business Daily (NBD) noticed that based on the closing price on Thursday, the price-to-earning (P/E) of the hotpot player was logged at 87.75, much higher than its Hong Kong-listed counterpart Xiabuxiabu Catering Management (China) Holdings Co Ltd (00520.HK), of which the P/E was 22.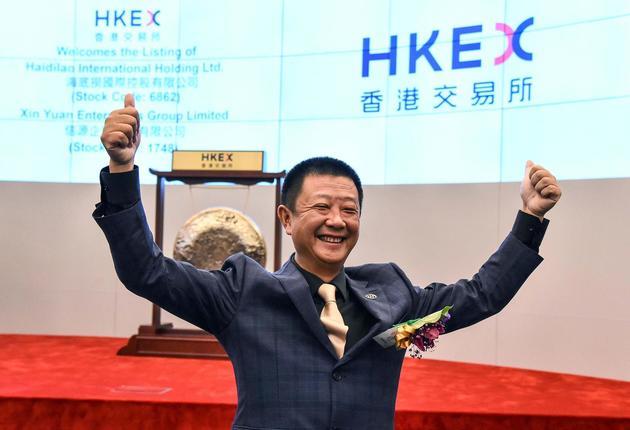 Zhang Yong, founder of Haidilao [Photo/Mai Shangmin (Hong Kong division of China News Service)/VCG]
Financial highlights
According to the interim report, Haidilao harvested revenue of 11.7 billion yuan (1.7 billion U.S. dollars), a year-over-year increase of 59.3 percent and reaped profits of 911.0 million yuan, up 41 percent from year-ago period.
Restaurant operation is the chief revenue source. For the period ended June 31, 2019, proceeds from restaurant operation hiked by 58.4 percent year on year to 11.3 billion yuan, accounting for 96.9 percent of the total. Haidilao attributed the growth to the 259 new outlets opened from H2 of 2018 to H1 of 2019.
The report also indicated that in H1 of 2019, Haidilao served over 109 million customers with an average table turnover rate of 4.8 times per day. It's worth noting that in 2018, Xiabuxiabu recorded an average table turnover rate of only 2.8 times per day.
Moreover, the same-store sales of Haidilao presented a growth of 4.7 percent, with the average spending per guest surged to 104.4 yuan from 100.3 yuan a year ago.
NBD found the remarkable revenue increase of Haidilao also benefited its supplier Yihai International Holding Ltd, which announced its interim report on Wednesday, unveiling a year-on-year 64.9-percent revenue increase. As a result, stocks of Yihai international elevated by 2.05 percent on the day.
Opportunities and challenges coexisting
Consequently, a number of brokerage firms were bullish on Haidilao and placed a buy rating since Wednesday. Industrial Securities held that the five-firm concentration ratio (CR5) of the hotpot market stands at merely 5.5 percent, which means a huge development space in the market.
According to consulting firm Frost & Sullivan, the Chinese hotpot market reached 481.4 billion yuan in 2018 and will total 707.7 billion yuan by 2022 with a compound annual growth rate of 10.2 percent.
However, NBD observed that as early as this July, Sinolink Securities put an underweight rating against Haidilao, deeming that the company is over-expected by the market as the anticipated business performance couldn't match with the company's short-term valuation.
According to the research report, as the size of Haidilao's newly-opened outlets became smaller, the average revenue contribution of each shop and the profit scale of the company would shrink. At the same time, due to marginal effect, the average table turnover rate would also decline.
Part of the prediction of Sinolink Securities was proved in Haidilao's interim report. From 2017 to 2018, the average table turnover rate of the company stood at 5 times, but fell to 4.8 times at the end of this June. The profit rate also showcased a downward trend. In H1 of 2019, the profit rate was logged at 7.8 percent, down 1 percentage point from 8.8 percent in the same period of 2018. Furthermore, the profit growth in 2018 was 60.2 percent in comparison with 41 percent in H1 of 2019.
Cen Zhiyong, strategist at Springwaters Financial Securities Limited, commented to NBD that business performance is important for a stock, but investors should also be cautious about whether the valuation is rational.
Email: gaohan@nbd.com.cn