'PAT' replaces 'BAT'? Pinduoduo topples Baidu as 5th most valuable listed Internet firm in China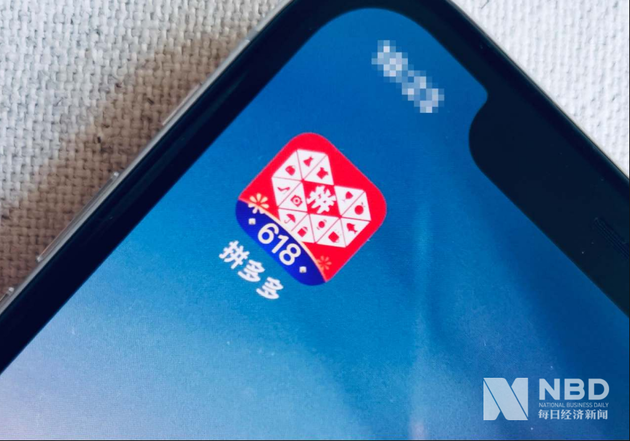 File photo/Liu Yang (NBD)
Aug. 30 (NBD) – Four-year-old Chinese e-commerce firm Pinduoduo (NASDAQ: PDD) eclipsed search giant Baidu (NASDAQ: BIDU) in terms of market cap on Thursday (EST), becoming the fifth most valuable Chinese listed Internet company.
Stock price of Pinduoduo soared on the day by 8.66 percent to close at 33.61 U.S. dollars per share. The company's market cap reached around 39.1 billion U.S. dollars, exceeding that of Baidu for the first time, which stood at 36.5 billion U.S. dollars.
National Business Daily (NBD) observed that as of the closing time on Thursday, shares of Pinduoduo have risen by nearly 50 percent this year and once hiked to record-breaking 33.88 U.S. dollars per share, while stocks of Baidu, as a contrast, tumbled about 34 percent year to date and once dipped to 93.39 U.S. dollars per share, the lowest in six years.
On August 21, Pinduoduo released the Q2 financial report, which presented a satisfactory performance. Revenue for the period was logged at 7.3 billion yuan (1.0 billion U.S. dollars), up 169 percent from the same period of the previous year, and the net loss attributable to ordinary shareholders narrowed by 84.6 percent year over year to 1.0 billion yuan. The financial report also revealed that the average monthly active users of Pinduoduo for the period marked 366 million, rising by 88 percent from year-ago period.
According to a report on app downloads published by data analysis firm Sensor Tower, in Q2 of 2019, Pinduoduo ranked 1st in China and 9th worldwide in terms of downloads on the App Store.
In the second quarter of 2019, Baidu, one of the long-renowned Internet trio "BAT" (Baidu, Alibaba and Tencent), reaped revenue of 26.3 billion yuan, a year-on-year increase of a mere one percent, and the net income attributable to Baidu was 2.4 billion yuan, down 62.3 percent from the same period of last year.
Besides, according to Baidu's financial report for Q1 of 2019, the tech titan recorded loss for the first time since 2005.
NBD found that prior to Pinduoduo, lifestyle platform Meituan-Dianping and e-commerce giant JD.com have already overthrown Baidu to be respectively the third and fourth largest Internet company in China in terms of market cap. Currently Alibaba and Tencent still dominate the first and second position respectively on the market value list.
Email: gaohan@nbd.com.cn