With bigger crowds than expected, Costco mulls a second Shanghai store in late 2020, says company CFO
Sept. 2 (NBD) -- With shoppers clogging up Costco (NASDAQ:COST)'s maiden store in mainland China, the U.S. membership-only retailer is to launch a second outlet in Shanghai in late 2020 or early 2021, as revealed by the company's CFO Richard Galanti in an exclusive interview with National Business Daily (NBD) on Sunday.
On the opening day last week, with customers crowding the aisle of the store in Shanghai's Minhang district, business in the afternoon was suspended. On the day, stocks of Costco, boosted by its popularity in China, rose by 5 percent to 292.38 U.S. dollar per share.
Will Costco look for further presence on the Chinese mainland? Will there be a second store soon? Which place will the company choose? The following are what Costco's CFO Richard Galanti told NBD.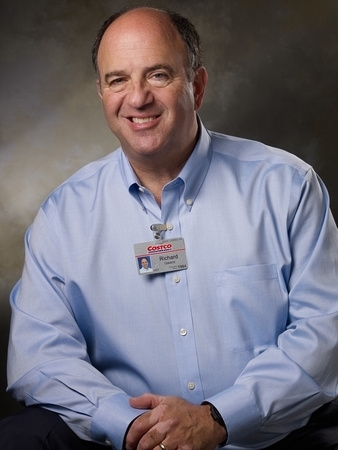 Richard Galanti (Photo/provided to NBD)
A second Costco store in Shanghai under preparation
NBD: Is there any plan to open new Costco stores in mainland China?
Richard Galanti: We plan to open a second Costco location in Shanghai in late 2020/early 2021. We hope to begin construction shortly. In terms of expanding beyond these two locations, we are already looking at future geographic opportunities. But this will take time. First, we want to make sure that the first couple of locations work well for both our employees and our members.
NBD: Why did Costco choose Shanghai to open the first brick-and-mortar store in mainland China?
Richard Galanti: Shanghai is considered an affluent city in China. Coupled with its high amount of international residents and desire for imported products by local Shanghainese, this was a perfect landscape for Costco to open its first warehouse.
Shanghai also had the highest penetration from our T-Mall online sales reinforcing the our decision to open in that market.
NBD: 23 years after Sam's Club entered the mainland China market, Costco opened its first store in the market recently. Why does Costco come to the market now rather than earlier?
Richard Galanti: We have always viewed the mainland China market with great long-term potential. In fact, several times over the past 15-20 years, senior management of our company have visited mainland China, with a view towards future expansion.
As well, we wanted to enter the market when we felt our company and our management team were well-prepared to successfully do so. We have spent the past few years preparing for our first opening; and look forward to future expansion possibilities.
NBD: Has Costco ever imagined that shoppers would be so overcrowded in the Shanghai store on the opening day?
Richard Galanti: In terms of the great first day and first week successes we are experiencing, we did expect big crowds. These expectations were based in large part on both significant new member sign-ups during the past two-three months prior to our opening, as well as, excitement on social media.
So, while we did expect significant first-day crowds at our Shanghai warehouse, actual crowds and results exceeded these high expectations. While we are optimistic about the long term success of this location, we would certainly expect the extreme overcrowding on the first day to calm down.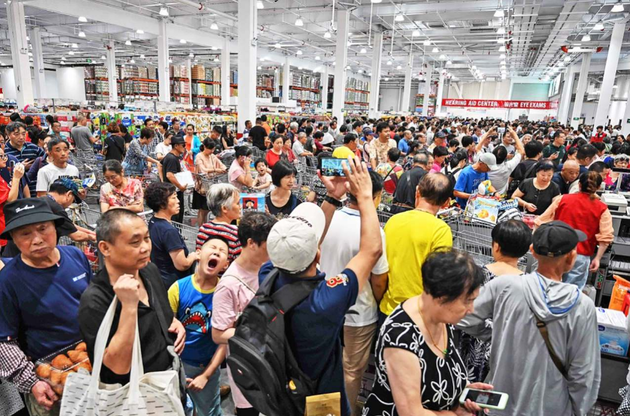 First-day crowds at Shanghai Costco (Photo/VCG)
Shanghai Costco store offers unique items
NBD: "Costco constantly works at bringing items to market at the lowest cost. Rather than increasing profits by raising its margins, it chooses to increase profits by selling more volume at lower margins," said a report by Retail Strategy Center. Considering that most products in Shanghai store are imported ones, how does Costco stay low-cost in order to maintain low product prices?
Richard Galanti: Even as we enter the mainland Chinese market with our first location, we bring the purchasing strength of the third largest retailer in the world. As well, we have an operating model that allows for very efficient operating costs. We use these attributes to price our goods to our members at the lowest possible prices. Our philosophy: We want to make a little, a lot of times.
NBD: Costco has 3,700 active SKUs (Stock Keeping Units), while Walmart Supercenter operates 140,000 SKUs. Does Costco find any risk in low SKUs? Did the Shanghai store offer special items only for Chinese shoppers?
Richard Galanti: Costco's model of limiting its SKU selection to less than 4,000 items is, we believe, a strategic advantage for us. In effect, our buyers pre-select great, high-quality merchandise, from basic necessities to unique, treasure-hunt items that our members want.
In terms of the Shanghai Costco, examples of a few unique items include the following: high-end, designer handbags; high-end (alcohol) wine and spirits; and whole, fresh blue-fin tuna.
NBD: Does Costco think that the membership system, which is already common in the United States, will be accepted in mainland Chinese market?
Richard Galanti: We certainly hope that Costco's membership concept will be accepted in the mainland Chinese market, as it has successfully been so throughout the world. Rest assured we will work hard to have Costco be viewed positively to its members in China.
Email: gaohan@nbd.com.cn