Zhejiang Geely sues WM Motor for business secret violation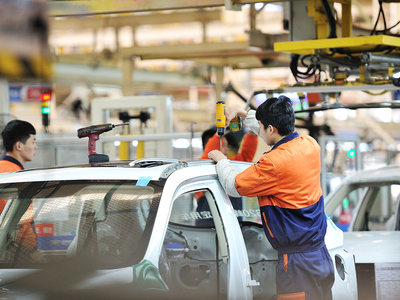 Geely's manufacturing workshop in Ningbo, east China's Zhejiang province (Photo/VCG)
Sept. 3 (NBD) -- Zhejiang Geely Holding Group Co. (Geely), one of China's largest automakers, has filed a lawsuit against electric vehicle (EV) startup WM Motor and its three subsidiaries, accusing the latter of violating business secrets and requesting a compensation of 2.1 billion yuan (296.3 million U.S. dollars).
The case is scheduled to be heard at Shanghai High People's Court on September 17, but no further details about the issue were revealed so far.
National Business Daily (NBD) observed that this will be the first intellectual property (IP) lawsuit initiated by a domestic automaker and also an IP dispute involving the highest amount of claim in the Chinese automobile industry.
In response to the case, a person at Geely declined to comment saying it is subject to the legal judgment. WM Motor noted it didn't commit any act of infringement and is confident of winning this lawsuit. "WM Motor strives to protect its own IP portfolio without infringing on others' IP rights. As of this June, we have possessed 1,076 patents in the design, technology and other fields," mentioned the EV startup.
WM Motor has entrusted a Beijing-based law firm to represent the car maker to answer the charge.
Some held the dispute was relevant to the close relation between former employees of the Zhejiang-headquartered traditional car giant and the EV startup.
Freeman Shen Hui, founder, chairman and CEO of WM Motor, once served at Geely as a director of the board and vice president and headed the China operations of Volvo Car Corporation. During his tenure at Geely, Shen led the team to complete the acquisition of Volvo.
Besides, some of WM Motor's core employees had experience of working in Geely, including Dr. Xu Huanxin, partner and chief operating officer of WM Motor, who previously developed new energy technology for Volvo.
NBD noticed that the case came at the time when WM Motor is seeking a 1-billion-U.S. dollar financing round for R&D, branding, customer service and channel development, Bloomberg reported on July 1 this year.
On March 8 of 2019, WM Motor landed 3 billion yuan in the latest series C funding round led by Baidu. The company so far has raised a total of 23 billion yuan.
The dispute with Geely will add further woe to loss-making EV maker who is facing heavy pressure in reaching its production goal. WM Motor delivered 9,137 units in the January-July period of this year, far behind the 100,000-unit target for this year.
WM Motor is not the first Chinese automotive startup that has been involved in IP disputes.
This March, Tesla sued its former senior engineer Cao Guangzhi for stealing the source code of Tesla's AutoPilot software, according to court documents. After leaving Tesla, Cao took a position at Chinese EV firm Xpeng and its U.S. unit XMotors. Cao admitted to the court that he did download the source code, but his lawyers insisted he did nothing about the code. His work at Xpeng has already been suspended.
Email: lansuying@nbd.com.cn