Top chip firms grabbing for more say in 5G market with new products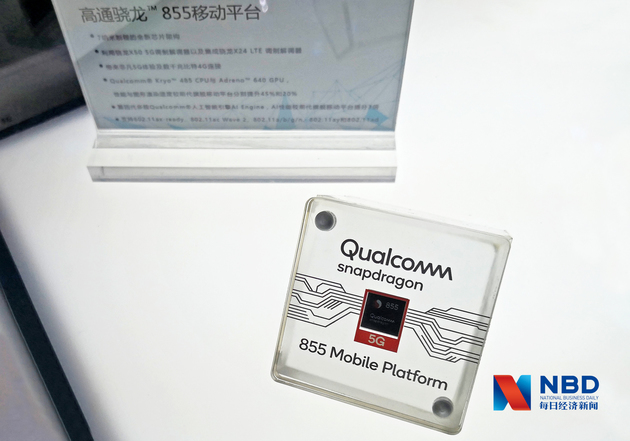 Qualcomm's Snapdragon 855 5G mobile platform showcased at the 2019 China Unicom International Partners Meeting [Photo/Liu Chunshan (NBD)]
Sept. 9 (NBD) -- With the coming of 5G era, rivalry in the 5G chip market has been intensifying across the world, and top chipset firms are all eyeing to establish a beachhead in the field.
Huawei launched its high-end Kirin 990 flagship chipset which includes a version with a built-in 5G modem at Berlin's IFA 2019, which kicked off last Friday. The Kirin 990 5G chip uses a 7nm Plus EUV lithography process and is the first ever 5G SoC that integrates application processor and baseband processor in a single chip.
Notably, the new 5G product includes a record 10.3 billion transistors, Richard Yu, CEO of the Consumer BG at Huawei, mentioned during the event. The 7nm processor with eight ARM Cortex CPU cores will offer a maximum download speed of 2.3Gbps, and a maximum upload speed of 1.25Gbps.
National Business Daily noticed that without building a hype, Samsung unveiled its new in-house processor Exynos 980 just two days before Huawei's introduction of the Kirin 990.
The 8nm chipset from the South Korean firm integrates a 5G modem directly into the CPU and doesn't require an extra modem. It supports 5G to 2G networks and is capable of gigabit speeds for LTE and up to 2.55Gbps sub-6GHz 5G speeds, slightly faster than Huawei's Kirin 990. The chip was said to go into mass production at the end of this year.
It is also noticed that a few hours after Huawei's new product release, Qualcomm introduced its new Snapdragon 8 Series, 7 Series, and 6 Series processors at IFA 2019. Snapdragon's expanded portfolio of 5G mobile platforms is designed to support all key regions and frequency bands including TDD and FDD modes, 5G multi-SIM, Dynamic Spectrum Sharing, and Standalone and non-standalone network architectures.
The flagship Snapdragon 8 Series is now powering leading 5G mobile devices that were introduced globally in 2019. Alex Katouzian, senior vice president and general manager, mobile, Qualcomm Technologies, Inc., disclosed that the company's expanded mobile platform offerings across our Snapdragon 8 Series, 7 Series and 6 Series will be available in 2020.
With regard to new products release from rivals, a person from Huawei pointed out that a product can only be called commercialized when it is delivered to users. According to the person, Huawei will be the world's first manufacturer to release terminal products with integrated 5G baseband chip inside, ahead of Samsung and Qualcomm. The Kirin 990 5G chipset will be employed in Huawei's new-generation flagship phone Mate 30 in one week.
The fast speed in commercialization will give Huawei an edge strategically, Canalys analyst Jia Mo pointed out. But this doesn't mean Qualcomm will lose its advantages completely, he added.
According to media reports, Qualcomm promised on Friday to bring 5G mobile phones to the masses with a high-end modem and said its chips would also power mid-price devices hitting the market next year.
Email: lansuying@nbd.com.cn