Chinese handset maker Transsion, 'King of Africa', to debut on Nasdaq-like STAR Market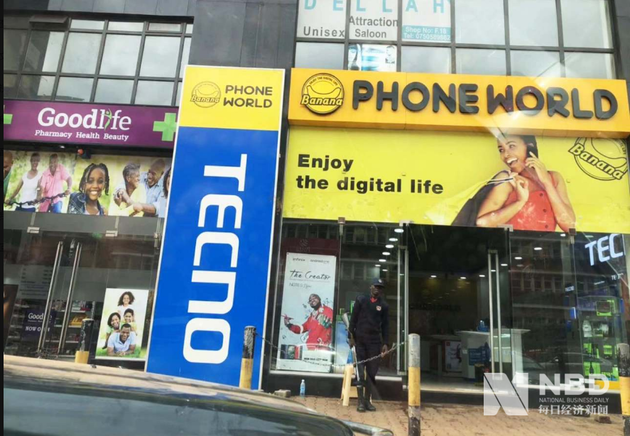 A store of Tecno, a handset brand under Transsion, in Uganda [File photo/Tan Yuhan (NBD)]
Sept. 10 (NBD) -- Chinese mobile phone maker Shenzhen Transsion Holdings Ltd ("Transsion") is nearing an IPO on China's Nasdaq-like STAR Market, or the sci-tech innovation board of Shanghai Stock Exchange.
The Shenzhen-based company announced on Tuesday it will determine the offering price on September 17 and take subscription requests on September 19.
According to the prospectus, Transsion plans to issue at least 80 million shares in the imminent IPO to raise over 3.01 billion yuan (424.9 million U.S. dollars), with the float being second only to China Railway Signal & Communication Corporation Ltd that was listed on the STAR Market in July this year.
National Business Daily (NBD) noticed Transsion previously prepared to go public on the A-share market via reverse merger in March, 2018, but failed at last due to disagreements with its then interested buyer Shimge Pump Industry Group Co Ltd. Transsion thus filed IPO request with the STAR Market this March.
Founded in 2013, Transsion has kept pushing into the African market. As of the end of June 2019, Transsion's revenue from sales in Africa accounted for over 80 percent of the total. Besides, the phone maker dominated a 48.71-percent share of the African market last year.
According to global data provider IDC, in 2018, Transsion secured a 7.04-percent market share worldwide, ranking the fourth among mobile phone manufacturers in terms of shipment. The prospectus unveiled that Transsion shipped 124 million units of mobile phones last year.
Financially speaking, Transsion delivered an eye-catching performance. Its revenues reached 11.6 billion yuan, 20.0 billion yuan and 22.6 billion yuan respectively in 2016, 2017 and 2018, ascending with a compound annual growth rate of 39.5 percent.
In the first half of 2019, the handset maker raked in 10.5 billion yuan in revenue, with net income attributable to shareholders registered at 817.9 million yuan, according to the prospectus.
However, NBD found that compared with other mobile phone vendors, Transsion's investment in R&D was insufficient. From 2016 to 2018, the average annual R&D expenditure made up a mere 3.15 percent of the company's revenue. And the metrics stood at 3.32 percent in the first six months of 2019.
By comparison, during the 2016-2018 period, Tinno Mobile Technology Corporation, another Shenzhen-based phone maker, pumped over 5 percent of its revenue into R&D, Samsung's disbursement in R&D took up over 7 percent of its revenue, and Huawei, over 14 percent.
Email: gaohan@nbd.com.cn