NBD Think Tank Los Angeles Center unveiled, further cementing NBD's overseas layout
Oct. 16 (NBD) -- NBD Think Tank, the research arm of China's leading financial news agency National Business Daily (NBD), today announced the opening of its Los Angeles center, just about 20 days after the inauguration of its New York center.
This marks a further substantial move of NBD in fulfilling the practices of combining smart media with internationalization. Plus the west U.S. office built in Silicon Valley in July last year, NBD has made great headway in overseas layout.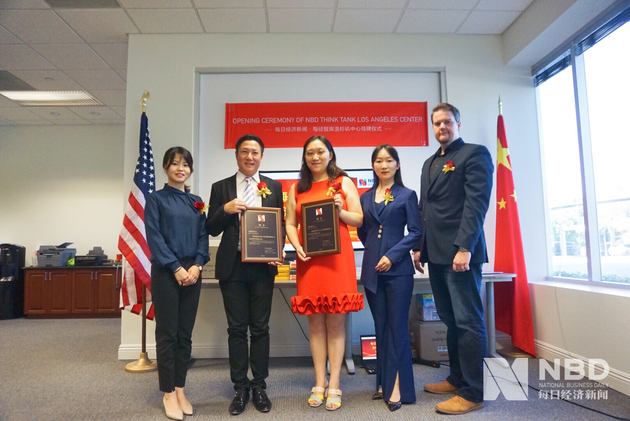 Photo/NBD
Why Los Angeles?
The reason behind NBD Think Tank's decision to set up its second overseas center in Los Angeles is that the prosperous city, rather than home to Hollywood, is a hub of science, technology, engineering and math (STEM) and ranks top across the U.S. in terms of the number of scientists and engineering technicians.
Meanwhile, the city boasts abundant intelligence resources as it is the seat of many world's top universities including California Institute of Technology and University of Southern California as well as a number of research institutes.
An executive with NBD said, "The ample resources and geographic advantages of California, Los Angeles, and Silicon Valley is conducive to NBD's international development, and we hope the Los Angeles center can work with universities and research institutes there to gain more say in the international market."
To date, the institute has built a pool of more than 10 international experts proficient in urban development, macro economy and other domains to support its project research. Among them include Peter Karl Kresl, President of the Global Urban Competitiveness Project under the United Nations Human Settlements Programme, and GaWC's associate directors Ben Derudder and Kathy Pain.
"Smart Media" plus "Internationalization" strategy expedites NBD's global expansion
The establishment of NBD Think Tank's New York Center marks a fresh start. In the coming years, NBD will have its footprints spanned all over the world. A person-in-charge at NBD said, "We are including other important cities in Asia, Europe, the Americas, Oceania and Africa into our plans. NBD Think Tank is aimed to improve its participation in discussing global issues and boost its international influence. It aspires to become a leader of innovative international think tanks in the new era."
After ten years of development, NBD has become one of the most influential, authoritative and credible omni-media platforms in China, and its Weibo account, boasting 41 million followers, has become the most-followed among the financial media agencies.
Early this year, NBD initiated the strategies of "smart media" and "internationalization", by integrating media, think tank and financial big data with the help of technologies. In the future, NBD will endeavor to shape a new eco-system for financial media, and evolve into a leading sci-tech media firm from an advantaged traditional media firm.
Around the globe, behind an international metropolis there sees a rising mainstream financial media agency which represents the economic strength and core competitiveness of the city. NBD expects to be the signature of southwest China's Chengdu, a city that has set the goal to become a sustainable world city by 2050.
The presence in Silicon Valley, New York and Los Angeles embodies NBD's efforts to march forward to the global arena together with Chengdu.
Email: lansuying@nbd.com.cn