Int'l ceramic fair opens in China's porcelain capital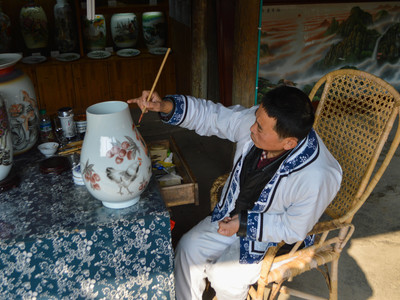 Photo/Shetuwang
An international ceramic fair opened Friday in the city of Jingdezhen, a world-famous "ceramics capital," in east China's Jiangxi Province.
The 2019 China Jingdezhen International Ceramic Fair has attracted nearly 1,000 firms and over 3,500 exhibitors from countries and regions, including China, Italy and the Netherlands.
A total of 1,900 standard booths have been set up to display various ceramic products made in Jingdezhen and other places.
A series of events such as a ceramic products exhibition and a ceramic lights show will also be held during the fair.
Sponsored by the Ministry of Commerce, the China Council for the Promotion of International Trade, China National Light Industry Council, and the provincial people's government of Jiangxi, this year's fair will be held until Oct. 22.
With 1,700 years of ceramic-making history, Jingdezhen is home to more than 30,000 people working in ceramics. The porcelain there is praised as being "white as jade, thin as paper, with the sound of a bell and bright as a mirror."
First held in 2004, the China Jingdezhen International Ceramic Fair has become a significant platform to showcase the world's finest porcelain.
Email: gaohan@nbd.com.cn