Chengdu tops the Milken Institute Best-Performing Cities China Index 2019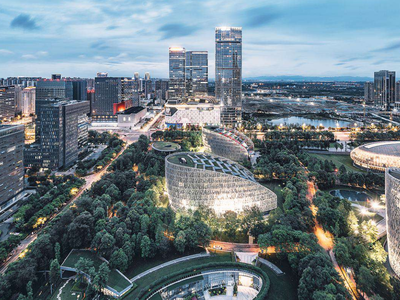 Chengdu Hi-Tech Industrial Development Zone (Photo/VCG)
Oct. 23 (NBD) -- Chengdu, the "Land of Abundance" in Sichuan province, is China's best-performing city in 2019, announced the Milken Institute on Wednesday, releasing the fifth edition of its annual Best-Performing Cities China report at the Yale Center in Beijing.
Chengdu bears the fruit of the Western Development strategy the city embarked upon 20 years ago. Its well-established industrial base and extensive new high-tech build-up secures the city first place among the first- and second-tier cities, according to the report.
"Today, Chengdu is one of the top five most populous cities in China, and has expanded its economy with a diverse, innovative industry base including transportation equipment production, biotech and life science R&D, and consumer electronics products," the Milken Institute said in the report.
This year marks the third time Chengdu has risen to the top ranking in the past five years of the Milken Institute's Best-Performing Cities China, and the fifth time it has been ranked in the top 10 large cities group. As one of the most important economic, cultural, transportation, and communication centers in western China, Chengdu is transforming itself into a hi-tech industrial center with an international reputation that amplifies its economic influence on regional development.
Chengdu stands out with its unique lifestyle, remarked Perry Wong, managing director of research at the Milken Institute and co-author of the report, in an interview with National Business Daily (NBD) on Wednesday. The city's characteristic way of life helps attract talents, Wong added.
With the progress made in economic development, the city has also fostered an inclusive and open cultural atmosphere and focused on delivering quality life to people, which drew attention from not only world's leading fashion houses such as Chanel, Dior, and Chloé, but also lifestyle trend-setters. It's noticed that British premium lifestyle magazine Monocle is to bring its first Cities Series conference to this city on November 4.
According to Wong, when a city enters certain development stage, a special label should be created to distinguish the city from others. For instance, New York is associated with "metropolitan culture" and Shenzhen, "techno-culture". For Chengdu, humanistic culture is its advantage, Wong added.
The Milken Institute in the report also highlighted Chengdu's efforts to protect environment and city green space while experiencing substantial economic growth. Proximity to nature elevates Chengdu above many Chinese cities. The city is surrounded by mountains on all sides, with Mount Qingcheng being the most famous.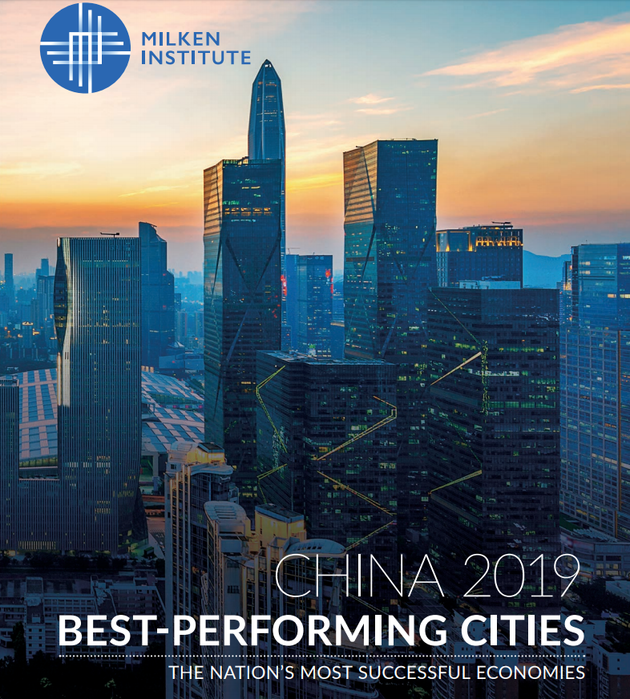 Screenshot/The Milken Institute report
"The Best Performing Cities China index for 2019 shows that innovation and advanced technologies are central to the transformation story of China's cities, such as Shenzhen and Dongguan, and will continue to be for the future," explains Wong.
Shenzhen in Guangdong province secures second place in the large cities group, dropping from the top spot last year (2018). Beijing, the nation's capital and a lead in developing the Tongzhou district, home to the Beijing municipal government, captures the third spot with the support of an influx of foreign direct investment, according to the report.
The 2019 Milken Institute Best-Performing Cities China Index divides 264 Chinese cities into two groups, one for large cities and one for small and medium-sized cities, to yield more meaningful comparisons and insights. The two groups are ranked separately based on economic performance, with an emphasis on growth measurements. Its ranking index for this 2019 version comprises nine indicators - one-year (2017-2018) and five-year (2013-2018) growth for jobs, wages, and gross regional product (GRP) per capita; three-year (2015-2018) foreign direct investment (FDI) growth; FDI/GRP ratio (2018); and the location quotient (LQ) for high value-added industry employment (2018).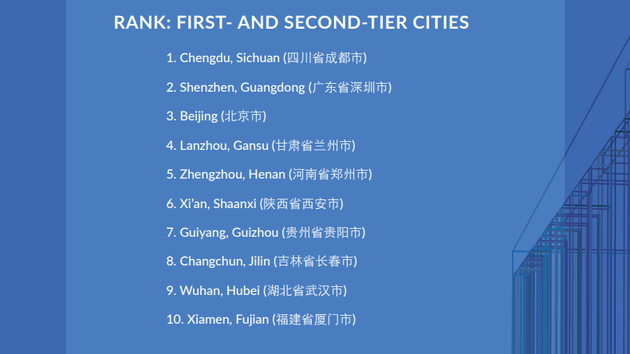 Screenshot/The Milken Institute report
Email: lansuying@nbd.com.cn