Despite wider-than-expected quarterly loss, Pinduoduo to continue with subsidy program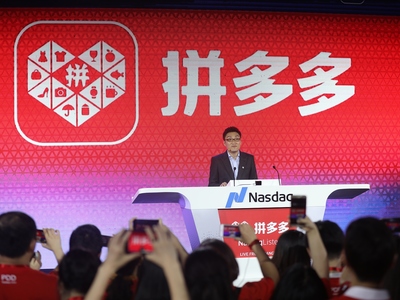 Pinduoduo rang the bell on Nasdaq last July. (Photo/VCG)
Nov. 21 (NBD) – Stock of Chinese e-commerce platform Pinduoduo (NASDAQ: PDD) tumbled by 22.89 percent on Wednesday (EST) to close at 31.4 U.S dollars per share, after the company posted wider-than-expected loss for the third quarter of 2019.
According to the financial report, for the third quarter of this year, Pinduoduo reaped a revenue of 7.5 billion yuan (1.1 billion U.S. dollars), increasing by 123 percent over the same period of last year, but recorded a 2.3-billion-yuan net loss attributable to ordinary shareholders, which presented a year-on-year rise of 113 percent. Noticeably, the loss is bigger than the market expectation which stood at 1.222 billion yuan.
It's worth noting that the marketing expense of Pinduoduo for the period took up a whopping 91.95 percent of the total revenue, compared to 84 percent for the year-ago period. Earlier this year, Pinduoduo launched a plan to provide shopping subsidies worth 10 billion yuan in order to woo more users.
Despite the widening loss, Pinduoduo's founder Colin Huang disclosed at a teleconference on Wednesday that the company would continue to offer subsidies for the purpose of boosting user engagement and helping users to develop shopping habits.
National Business Daily noticed that Pinduoduo's tremendous investment in marketing largely contributed to the increase of users on the shopping platform, especially users from less urban regions.
The Q3 financial report showcased that the number of monthly active users on Pinduoduo's app for the period averaged 429.6 million, growing by 64 million from the prior quarter and climbing by 85 percent over the same period of last year. For six months ended on September 30, 2019, the number of new monthly active users on Pinduoduo's mobile end reached 139.9 million.
The number of daily active users who access Pinduoduo through subsidy-offering links already exceeded 100 million, revealed Colin Huang.
However, the influx of more users failed to deliver matchable purchasing power. The quarterly growth in gross merchandise volume (GMV) has been slacking off for the past quarters. According to the financial results, the GMV in Q3 ascended by 18.4 percent from that in Q2, in comparison with the 27.2 percent growth in Q2 from Q1.
Currently, one of the challenges faced by Pinduoduo is posed by Tencent (00700, HK)'s instant messaging app WeChat, where the e-commerce upstart made its fortune at the beginning via link-sharing among WeChat users. In October, WeChat started to block outbound links, making it hard for Pinduoduo to use the social platform as a natural marketing front.
Moreover, the battle among e-commerce platforms in less-developed areas is becoming more intense. This year, deep-pocketed e-commerce giants like Alibaba (NYSE: BABA) and JD.com (NASDAQ: JD) have respectively launched schemes targeting consumers in third and fourth-tier cities and rural areas, which intensified competition.
Apparently, the 10-billion-yuan subsidy program has been proven effective for customer acquisition, but it still takes time to tell whether the subsidy strategy will help the company rise above competition.
Email: gaohan@nbd.com.cn