Romantic novel guides Chinese river town out of poverty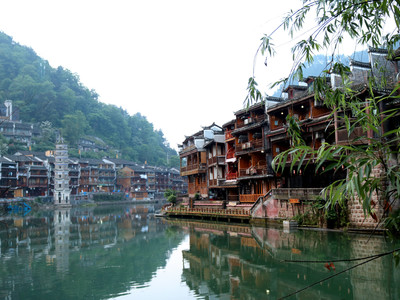 For many years, most residents in the ancient town of Biancheng were blissfully unaware of the way in which a Nobel-nominated writer's novel would one day come to define their anti-poverty campaign.
"Border Town," a 1934 novel by Shen Congwen, has riveted generations of readers with the love story of Cuicui, a young boatwoman who lives with her grandfather, and the traditional lifestyle in a Chinese river town.
The town's prototype, Chadong, sits in the border area of Hunan Province, inhabited by the three ethnic groups of Tujia, Miao and Han. It had remained largely anonymous until 2005, when it renamed itself as Biancheng, meaning "border town," and began to lure in curious book lovers.
Zeng Dexiu, a 35-year-old local, has operated a ferry with her grandfather since childhood. She did not regard this experience as peculiar until tourists started comparing her with the heroine in "Border Town."
"Some said I was like a modern Cuicui," she said. "My entire family lives on the water. I fish in the fishing season and operate the ferry during the rest of the year."
On the emerald Qingshui River, Zeng paddles a wooden boat while entertaining her passengers with local stories and songs, knowing that many of them are urban dwellers who came to savor the peace and tranquility as depicted in "Border Town."
In the past, the ferry service did not bring a stable income. Zeng's parents and husband had to take part-time jobs in nearby cities, and even so, her family entered the town's poverty list in 2014.
So when news reached her about a tourism company arriving at the town in 2018 to recruit boats and ferries, Zeng signed up without hesitation. The decision helped her family shake off poverty the same year.
"After joining the company, I had regular working hours, a stable income and social and medical insurance," she said. Zeng also manages to retain the traditional way of ferrying, except for her neat uniform and the addition of safety instructions.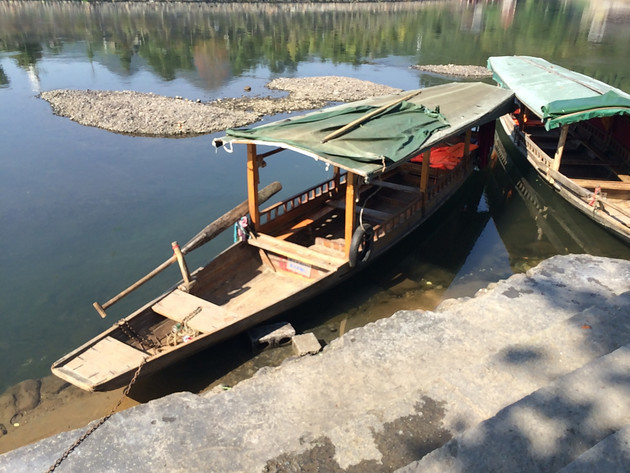 Photo/Shetuwang
Boatmen are not the only ones that have pounced on the opportunities provided by the influx of tourists into the quaint town. Right next to Zeng's home, a guesthouse was revamped from an old building and decorated with the local "golden tea" and a courtyard with running spring water.
"I hope all our visitors can truly experience the cultural depth this town has to offer," said guesthouse owner Ding Zhou, a non-native who settled down here after falling for the town.
Tian Hui, deputy general manager of Qule Cultural Tourism Development, the company that enlisted Zeng's boat, said Biancheng is undergoing a three-year project to build "a tourist destination with an immersive experience."
The project, launched this year, includes recreating scenes from the book and staging live performances on water, said Tian, whose company even plans to issue "silver coins" for book fans to use inside the town to simulate life depicted in the novel.
The local government of Biancheng is confident that tourism will aid its cause of removing the last 5,252 residents from the poverty list this year. Over the past six years, the government has invested 210 million yuan (about 29.9 million U.S. dollars) into tourism projects including the renovation of dilapidated houses and construction of public restrooms.
Its 2019 work plan has promised to enhance the protection and maintenance of existing scenic sites and ancient buildings and speed up the construction of auxiliary tourism facilities.
Nationwide, the Chinese government has announced to allocate 214 billion yuan from 2018 to 2020 to help eradicate abject poverty. More resources, it said, will go to anti-poverty initiatives including the establishment of area-specific industries and the ecological approach.
Unlike the sad note the novel ended on, as the male protagonist left the town heartbroken, the booming tourism industry in today's Biancheng is drawing back youngsters, including college graduates, and buoying locals' optimism.
"After three or five years, please come back again and have a look. Biancheng will surely be a much better place," Zeng said happily to her passengers as she paddled on the river.
Email: gaohan@nbd.com.cn