China's Foshan launches world's first commercial hydrogen-powered tram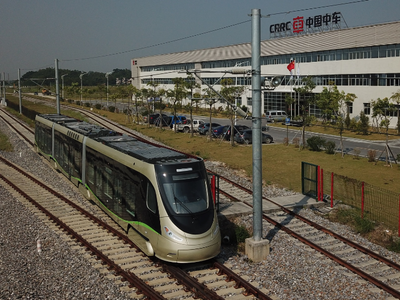 Photo/Dfic
Nov. 29 (NBD) -- Foshan, China's Guangdong province, announced on Friday that the world's first commercial hydrogen-powered tram will be put into operation on the day.
This hydrogen energy tram demonstration line in Gaoming district, Foshan has a total investment of 1.07 billion yuan (152 million U.S. dollars), a planned total length of 17.4 kilometers, and 20 stations.
The completed first-phase project is 6.57 kilometers long, with a total of 10 stations, a maximum operating speed of 70 kilometers per hour, and a maximum carrying capacity of 285 passengers. Each tram is equipped with 6 gas cylinders with a hydrogen storage capacity of 20 kg which enable the tram to run about 100 kilometers at every charge.
According to local authorities of Gaoming, all buses in the region, as planned, will go electric by the end of this year, and an additional 80 hydrogen-powered buses will be put into operation in the first half of 2020.
National Business Daily noticed that the trams are developed by CRRC Qingdao Sifang which once won "IAHE Sir William Grove Award", the first enterprise in the rail transit equipment industry to receive this prestigious award.
Email: lansuying@nbd.com.cn