China to ensure pork supply for upcoming holidays: official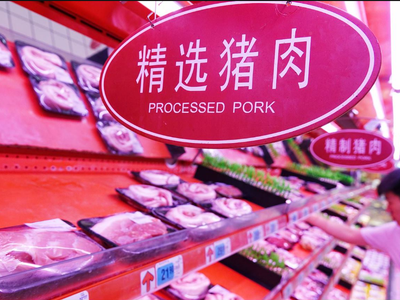 Photo/VCG
China will take measures to ensure stable pork supply for the upcoming New Year and Spring Festival holidays, the country's top economic planner said Tuesday.
Amid efforts to boost hog production through central budget support, the country is also channeling supply of alternatives including poultry and seafood, Meng Wei, spokeswoman for the National Development and Reform Commission, told a press conference.
China's central and local governments will release more of their frozen pork reserves to the market to meet the holiday season demand, and will also guarantee holiday meat supply by expanding imports, Meng said.
China's consumer price index (CPI), a main gauge of inflation, rose 4.5 percent year on year in November, mainly driven by surging pork prices, which rose 101.3 percent year on year last month, contributing nearly two-thirds of the CPI growth.
As the pork supply is gradually being restored, the month-on-month growth rate of pork prices in November was 3.8 percent, down 16.3 percentage points from October, said the National Bureau of Statistics.
Email: gaohan@nbd.com.cn