Int'l air routes to link China's Jiuzhaigou National Park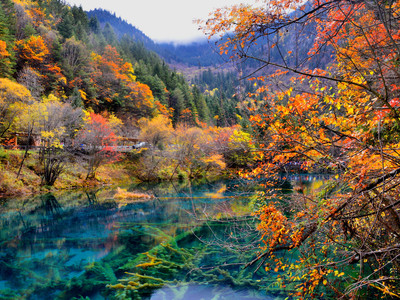 Jiuzhaigou (Photo/Shetuwang)
Overseas passengers are expected to fly directly to famed scenic spot Jiuzhaigou National Park in southwest China's Sichuan Province without transferring through other airports, local authorities said Monday.
The Jiuzhai Huanglong Airport plans to open four overseas air routes, linking Thailand's Chiang Mai, Republic of Korea's Busan, among others, in December 2020, according to the government of Jiuzhaigou County.
The airport currently has two terminals, and terminal one will be renovated as the international terminal, with entry and exit supporting facilities such as customs and immigration control being equipped.
With an altitude of more than 3,400 meters above sea level, the Jiuzhai Huanglong Airport is the second airport in Sichuan opening international air services, following Chengdu Shuangliu International Airport in the capital city.
The move is to further enhance Sichuan's level of opening-up and its attractiveness to overseas tourists, local authorities said.
Jiuzhaigou National Park, a UNESCO World Heritage site famous for its spectacular waterfalls, lush forests and serene plateau lakes, has resumed normal operation in 85 percent of its area after two years of post-quake reconstruction.
The maximum number of daily visitors has been adjusted from 8,000 set in September to 20,000.
On Aug. 8, 2017, a 7.0-magnitude quake forced the national park to close. The Jiuzhai Huanglong Airport, which halted services, reopened in August.
Email: gaohan@nbd.com.cn