East West Bank holds 'A Season of Giving' with the Lakers for children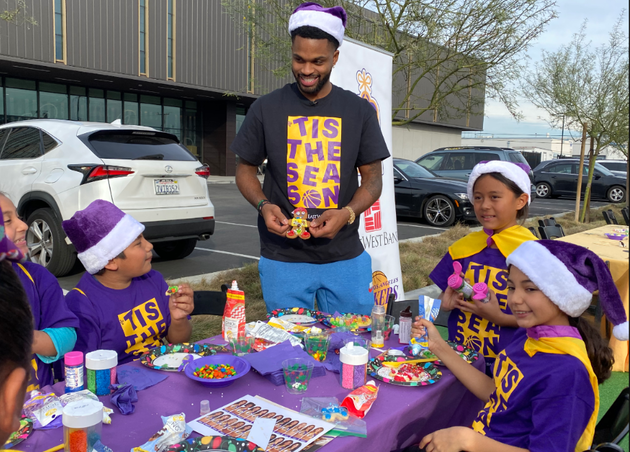 Troy Daniels decorating gingerbread cookies with children (Photo/provided by East West Bank)
Dec. 27 (NBD) -- Every year on December 25, the holiday of Christmas is celebrated in many countries around the world but with different traditions and in different ways.
For East West Bank, one of the largest independent banks headquartered in California, Christmas represents an opportunity to give back to society. The bank is wholly owned by Nasdaq-listed East West Bancorp Inc.
Prior to the holiday, Emily Wang, Director of Marketing and Community Development at East West Bank, volunteers from the bank, Los Angeles Lakers' JaVale McGee and Dwight Howard and Laker girls threw a birthday party for some 120 children at the UCLA Health Training Center in El Segundo.
It was "A Season of Giving", an event aimed to make contributions to society, which has been held by East West Bank and the Lakers for 13 consecutive years.
Children from afterschool education, enrichment and recreation program LA's BEST, Los Angeles Urban League, an organization in advancing equal opportunities, and SoLa Impact, a non-profit organization in helping teenager who need care, played games with Lakers players, made little Christmas gifts, decorated gingerbread cookies and took photos together.
Wang said that "A Season of Giving" which has been held annually since 2007 with the Lakers is one of community programs which East West Bank values most. "Through the activity, we want to send our love to more children in need, to create an opportunity for them to interact and learn from the star players, and to encourage them to continue their efforts to realize their dreams," Wang added.
Email: lansuying@nbd.com.cn