Staying innovative and diverse necessary for a city to truly flourish, remarks Mayor of Austin Steve Adler
Dec. 30 (NBD) – Wandering on the streets and alleys in Austin, one could easily encounter a slogan "Keep Austin Weird" on people's T-shirts, mugs and souvenirs.
"The slogan reflects in our city there's a high tolerance for taking risks," said Steve Adler, Mayor of Austin, Texas in a recent interview with National Business Daily (NBD) in Chengdu.
"People are encouraged to be different in Austin, and you'll find all kinds of people and ideas, so some people look at Austin and say that's pretty weird. We say we want to keep Austin weird," he explained.
Upon visiting the city in southwest China which shares much in common with Austin, Adler shared his city's practice in urban development and expected to further enhance the bond between these two cities.
In the views of Adler, both Chengdu and Austin are forward-looking and fastgrowing and have the zeal for innovation and new technology.
NBD noticed that this March, Chengdu debuted on the China Gathering event at the South by Southwest Conference (SXSW), one of the best-known art and tech festivals in Austin.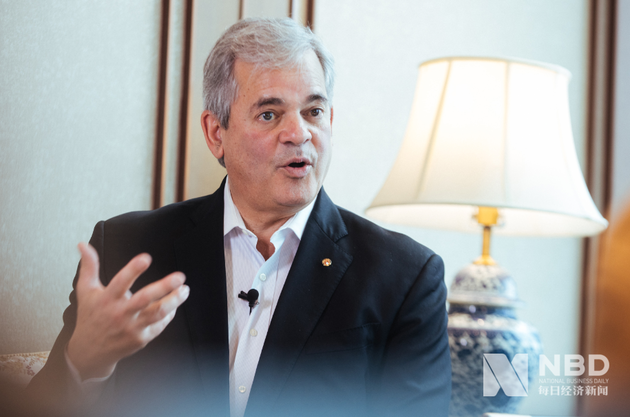 Photo/Zhang Jian (NBD)
Innovation and creativity lead to high-tech appeal
Blessed with a bevy of sci-tech companies, Austin has long been crowned as "Silicon Hills".
Well-known high-tech giants like Dell, 3M, Apple, Google, Facebook, Intel, etc., along with growing startups have settled in the tech epicenter of Texas for business expansion.
"There are more startups per capita in Austin than any other city in the U.S.," disclosed Adler. In the Tech Town Index compiled by U.S. trade association for the tech industry CompTIA this month, Austin ranked first as the top metro market in the country for information technology job opportunities.
"We're listed because of our culture, our attitude, and the feeling in the city – being creative, innovative and entrepreneurial - that attract young people." Adler told NBD, adding that large tech companies want to be in Austin because the people they want to hire want to live here.
"But mostly I think Austin is a good place for technology because innovation and creativity is something that is part and parcel of our culture," he stressed.
According to Adler, young and different minds are the sources of the city's innovation and creativity.
"Austin has the University of Texas, one of the largest public institutions of higher education in the U.S., so there are many students and well-trained workforce," he elaborated. "As the state capital of Texas, Austin is a dynamic place with people from all over Texas bringing in new ideas and new approaches."
'Music power' under spotlight
Such atmosphere of new thoughts and new ideas is also running through the veins of Austin's music industry, Adler noted.
On a given night, one can find over one hundred venues showcasing a wide variety of live music performances in Austin. Known as the Live Music Capital of the World, the city boasts over 250 live music venues in its less than 800-square kilometer area. "There are more venues playing live music per capita in Austin every night than any other city in the U.S.," Adler said to NBD.
According to a report from 2010, live music contributed to tourism's annual economic impact of 2.8 billion U.S. dollars, with 103 million U.S. dollars from SXSW alone.
Apart from economic gains, the dynamic music industry in return creates the feeling of being creative and innovative that attracts young people, and it is prime for new technology, Adler remarked.
The similar path - promoting innovative development by the cultural means - is also observed in Chengdu which endeavors to be a "Music City".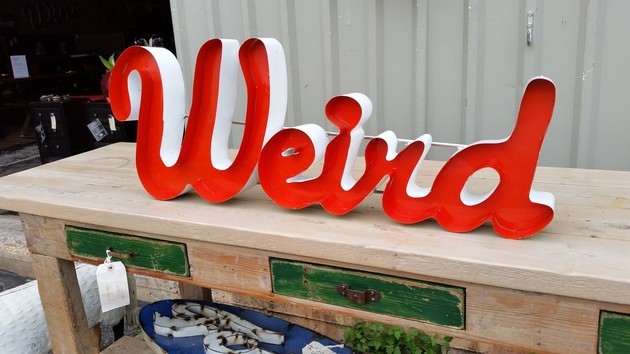 A 'Weird' plate on the street of Austin (Photo/Tuchong)
The output value of Chengdu's music industry is expected to exceed 47 billion yuan (6.7 billion U.S. dollars) in 2019, and to surpass 57 billion yuan in 2020 with a growth rate of over 20 percent.
In Adler's mind, the most important thing a city government can do to be part of that culture is to provide a field that can be easily tilled for new ideas and new creativity.
Diversity preserved to stay innovative and creative
As an increasing number of talents flow into Austin, the city is also faced with certain challenges.
"With more and more people moving to the city, it's becoming more and more expensive for people to live there. Housing, for example, is becoming increasingly expensive," said Adler. "The challenge right now is maintaining affordability."
Data from the Austin Chamber of Commerce indicated that the Austin metro area's population grew by an average of 55,500 persons annually or 152 per day since 2010, and net migration from 2010 to 2017 accounted for 12.9 percent of Austin's total population in 2017 - a larger share than any other top 50 metros in the country.
As a response, Austin is now changing the land development code so as to create a different housing structure and subsidizing housing for people that don't have an access or opportunity to buy a house, Adler told NBD.
"We do that to preserve diversity as well as new ideas and new people," noted Adler. "We want to preserve the diversity that exists the opportunity for everyone to be able to live in our city from the artists that are making the least amount of money, to the richest owner of the new high-tech corporate interest."
"Active neighborhoods and communities is one of the values Austin owns as some of the best ideas are tested and piloted in the neighborhoods," Adler added. "They are the incubators of innovation and creativity."
Email: gaohan@nbd.com.cn