Online viewing rooms of Art Basel Hong Kong launched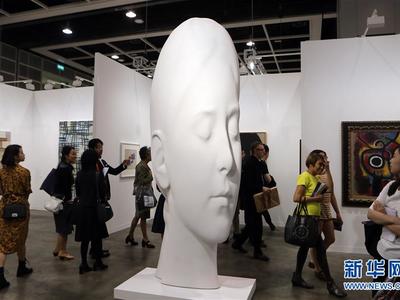 Audiences at the sixth Art Basel Hong Kong [Photo/Li Peng (Xinhua)]
Online viewing rooms of Art Basel Hong Kong were unveiled on Friday, with 235 leading galleries from 31 countries and territories presenting over 2,000 premier artworks.
Collectors will be able to discover over 2,000 exceptional works from the Modern to postwar and contemporary, including painting, sculpture, drawings, installation, photography, as well as video and digital works. All works will be displayed with either an exact price or a price range, with the overall value of work presented in the online viewing rooms being in excess of approximately 270 million U.S. dollars.
Art Basel's online viewing rooms offer exhibitors an additional platform to showcase artworks to Art Basel's global network of patrons, as well as new collectors and buyers. This year's online exhibition is free for the public.
This year's Art Basel Hong Kong was scheduled to take place at the Hong Kong Convention and Exhibition Centre from March 19 to March 21, however it was cancelled due to the outbreak and spread of the new coronavirus. The digital initiative runs from March 20 to March 25.
"While nothing can replace the experience of seeing art in person, we hope that this initiative can bring some support and visibility to all the galleries and their artists affected by the cancellation of our March show," Adeline Ooi, Director Asia for Art Basel's show in Hong Kong, said.
Art Basel, the world's largest art fair, was founded in Basel, Switzerland in 1970, and landed in Hong Kong in 2013. It is now held in Basel, Miami and Hong Kong respectively each year.
Email: lansuying@nbd.com.cn