China's movie theaters reopen, full recovery still a long way ahead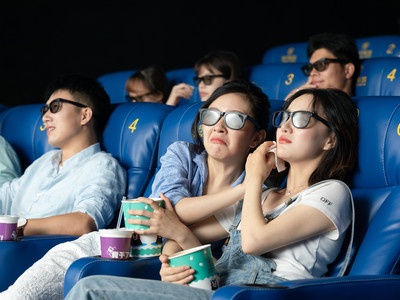 Photo/Shetuwang
Mar. 23 (NBD) – 72,400 yuan (10,205.8 U.S. dollars)! That was the total sum Chinese theaters received for the past weekend. Before the COVID-19 outbreak, it was the daily revenue of a regular movie theater.
As of March 21, 507 movies theaters in five Chinese provinces had reopened about two months after the shutdown amid the coronavirus crisis. But the performance of the weekend shows that it's still a long way from full recovery for the movie industry.
On Saturday, these movie theaters in China logged a total box office of 31,000 yuan; that figure rose to 41,400 yuan on Sunday. In comparison, national box office on a weekend day could easily hit 200 million yuan--normally.
Shortage of new movies is a major factor for the poor box office performance, as many movies chose to postpone their release dates to avoid potential massive loss. There are currently only five films showing in Chengdu, one of the cities that have reopened theaters, NBD noticed on online ticketing platform Maoyan. All these movies first hit the big screen last December.
China Film Group Corporation, the biggest film enterprise in the country, said last Tuesday that it would re-launch five old movies to help theaters get through the difficult times. The list includes action blockbuster Wolf Warrior 2 that broke China's box office record in 2017; the phenomenal sci-fi hit The Wandering Earth of 2019; and the Palme d'Or-nominated Lebanese drama Capernaum that had brought many Chinese audience to tears last year.
All revenues from the five re-released movies will go to theaters, while distributors and producers will not take their cuts, which are usually 43 percent combined. China Film Group Corporation said another five movies will be also unveiled soon.
Another piece of cheerful news is the re-launch of the first Harry Porter movie for the celebration of its 20th anniversary. Warner Bros. said last Thursday that Harry Potter and the Sorcerer's Stone will return to the big screen in China, with the exact date not decided yet.
The Harry Porter series has a big fan base in China, which is definitely thrilling for both theaters and audiences, a theater staff told NBD.
As for the release of new movies, industry insiders expect many to enter theaters around May 1 when the Labor Day holiday begins. However, watching movies is not a necessary consumption, an industry insider expressed his concerns to NBD, and people need a period of time to be psychologically prepared before entering theaters again.
Email: lansuying@nbd.com.cn