To revive tourism, chairman of OTA giant Trip.com sells ¥10 mln travel packages via live streaming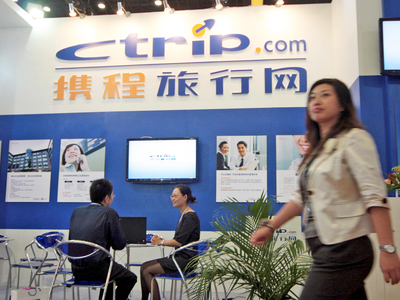 Photo/VCG
Mar.24 (NBD) -- "You can never expect to hail a 7-seater SUV with such a low price in the good old days," joked a driver Monday when picking up his passenger, adding he was once a car fleet provider for tourism companies but opted to make a living by being a driver for online ride-haling platforms amid the coronavirus outbreak.
What the driver has been through reflects the impacts on the tourism industry brought by the epidemic. Companies are seeking ways to recover and revive.
Liang Jianzhang, chairman of China's largest online travel agency (OTA) Trip.com (NASDAQ: TRIP), ventured out his first-ever live-streaming selling Monday night at Douyin in Atlantis Sanya, the only 7-star hotel in China.
The products are mainly pre-sales of hotel room packages and aquarium tickets. With the once-in-a-lifetime discount, extra services, KOL effect, and the desire to have a trip after several months of staying at home, orders started to piling. In merely an hour, Liang sold a total of 10 million yuan (1.4 million U.S. dollars) worth of tourism products.
Trip.com has encountered the most-battered year or the most-battered quarter at least since its inception over 20 years ago. At the worst time, 80 percent orders have been cancelled, said Liang in a previous interview with media agencies.
Liang considers the live-streaming activity as part of recovery efforts. Actually, the company has gained impressive pre-sale performance two weeks after its recovery plan was initiated in early March.
During the live streaming last night, Liang also disclosed the company was once expected to lose several billion yuan due to cancellation of orders during the epidemic outbreak. But with the support of hotel and airline partners, the losses stand at around 1 billion yuan.
The company's international businesses are also negatively affected, added Liang. With the epidemic spreading, the losses may continue to widen. Liang hopes the epidemic will end soon, otherwise, it will present a huge threat to the whole industry.
Email: gaohan@nbd.com.cn