Wild giant panda spotted in SW China's closed mining area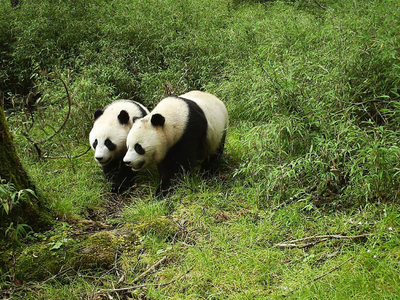 Photo/Xinhua
A giant panda was captured by cameras wandering and eating bamboo in the forest in the city of Mianzhu, southwest China's Sichuan Province, in late March, local authorities reported on Tuesday.
Staff with the Jiudingshan nature reserve found the photos and video clips of the panda as they took back 40 infrared cameras installed for wildlife monitoring, according to the natural resources department of Mianzhu.
"We captured a wild giant panda on tape in April 2019, and one year later, we finally saw the panda again," said Liao Liang from the reserve. "We took long pieces of footage of the panda from different angles, which gave us a deep insight into their life situation and it's very valuable research."
Staff also found pictures and videos of the golden monkey, the gnu, the forest musk deer, the Chinese monal and the blood pheasant. The latter two were spotted by cameras in the reserve for the first time.
Mianzhu authorities have shut down all the 243 mines on the mineral-rich Jiudingshan Mountain where mining activities had taken a toll on the environment. Yet an area of more than 100,000 square meters has become green again.
Email: gaohan@nbd.com.cn