Luckin Coffee's founder apologizes and vows to maintain operation after Nasdaq delisting notice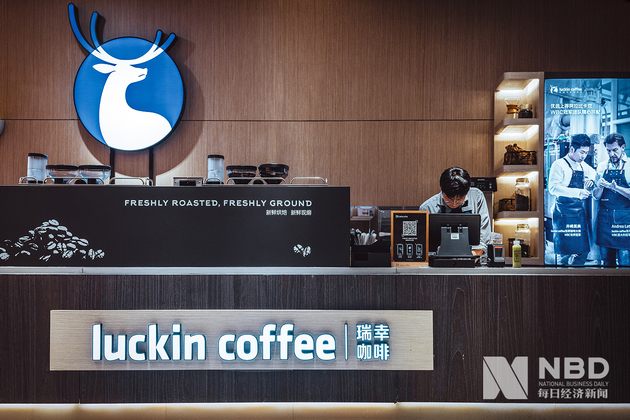 Photo/Lan Suying (NBD)
May 20 -- Luckin Coffee (Luckin, Nasdaq: LK) will resume trading on the Nasdaq on Wednesday, after the scandal-hit coffee startup received delisting notice from the stock exchange days ago.
Nasdaq said that Luckin will re-start trading on 7 a.m. local time. The shares have been suspended since April 7, after Luckin revealed a 310 million U.S. dollar sales fabrication that sent its shares down 83 percent prior to the halt.
Luckin, which vowed to take over Starbucks as China's biggest coffee chain, said Tuesday that it has received a written notice from Nasdaq on May 15, in which the stock exchange said it had determined to delist Luckin based on public interest concerns raised by the fabricated transactions, as well as the company's past failure to provide material information on a business model related to the fabrication.
The company said it plans to request a hearing, which typically occurs 30 to 45 days after the date of request, and will remain listed on the Nasdaq before the results of the hearing.
Apart from the delisting risk, 14 bondholders have filed lawsuit against Luckin in Hong Kong, China, aiming to recover losses of 161 million U.S. dollars. The second hearing is scheduled on May 22.
Luckin's only option now is to try its best to convince the Nasdaq Hearings Panel to keep its listing status, Hao Junbo, a lawyer who has represented clients in multiple class actions against China concept stocks, told National Business Daily (NBD).
Considering the two reasons Nasdaq gave in the notice, Hao personally thinks it will be difficult for Luckin to save itself from an eventual delisting.
Lu Zhengyao, chairman of Luckin, said Wednesday morning that he was "personally disappointed and regretful" at Nasdaq's decision before Luckin concludes its internal investigation.
On May 12, Luckin fired CEO Qian Zhiya and COO Liu Jian based on new findings of the ongoing investigation, and restructured members of top executives and the board.
Lu, who founded chauffeured car service UCAR Inc. and car rental service CAR Inc. before Luckin, said he never intended to cheat investors with "concepts", though he admitted that his business strategies may have been "too radical".
Lu added that he still believes in the business model of Luckin, and will do his best to maintain the operation of coffee stores and recover investors' losses, even if the company gets delisted. "I again apologize to all the investors, staff and clients of Luckin for the terrible impact of the incident."
A person close to Luckin told NBD that the coffee chain has been conducting a series of strategic moves, including optimizing stores, halting expansion of vending machines, and contracting the scale of spin-off tea brand Luckin Tea.
Luckin's cash flow remains plenty to stabilize employees and supply chain, the person added.
Considering the pending delisting, industry insiders hold that the key to Luckin's survival is to generate sustainable revenues and profits as soon as possible.
Email: gaohan@nbd.com.cn