Xiaomi releases upbeat Q1 result, but struggles to move up value chain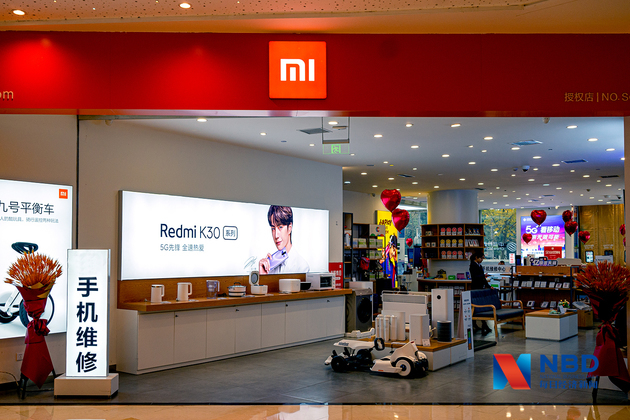 Photo/Lan Suying (NBD)
May 21 (NBD) -- Chinese tech firm Xiaomi Corp (Xiaomi, 01810.HK) on Wednesday released upbeat financial results for the first quarter of 2020 with revenue standing at 49.7 billion yuan (7.02 billion U.S. dollars), up 13.6 percent year on year.
The company managed to boost sales during the coronavirus outbreak and attributed the jump to its growing sales in the overseas market as well as the rising price of its just-released 5G phones in China.
It is noticed that revenues from the overseas market came in at 24.8 billion yuan in the first quarter, up 47.8 percent year on year, contributing to half of the company's total revenue for the first time.
However, the company's smartphone shipments to Chinese consumers in the first quarter fell by 33.8 percent year over year, according to market intelligence firm IDC.
With the coronavirus pandemic spreading outside China in the second quarter, will the growth sustain?
"Since this March, countries across the world have enforced lockdown measures with varying degrees amid the epidemic, which may adversely affect our sales in the second quarter," said Xiaomi chairman Wang Xiang in an earnings call, "but in some markets where lockdown measures are gradually lifted, our shipments have recovered over 90 percent of the level before the pandemic, which lays a foundation for the third and fourth quarter."
Xiaomi tried to explore the high-end market by spinning off Red Mi in 2019. But data shows that in the past seven quarters, the average price of its smartphone remains around 1,000 yuan and most of them are medium and low-end smartphones.
Moreover, the gross profit margin of Xiaomi's smartphones was 8.1 percent in Q1, only a slight increase from the previous quarter. With regard to the reason, the phone maker explained that it provided special offers for some models as it is in a product-shifting stage.
As for the IoT and consumers goods sector, the gross profit margin, 13.4 percent in Q1, is much lower than Apple or Huawei's overall gross profit margin of over 30 percent.
Low investment in R&D is another problem for Xiaomi. It's noticed that the tech company spent 1.78 billion yuan in R&D in Q1, which accounts for 3.76 percent of its revenue. Last year, Xiaomi put 3.64 percent of its revenue into R&D, while the figures for Huawei and Apple are 15.34 percent and 11.87 percent, respectively.
Without addressing that issue, it is hard for the company to break into the higher-end domain and its net profit margin will possibly linger at a comparatively low level for a long time, said a long-term Xiaomi observer.
Email: gaohan@nbd.com.cn