Lights, camera, action! "Chinese Hollywood" makes a comeback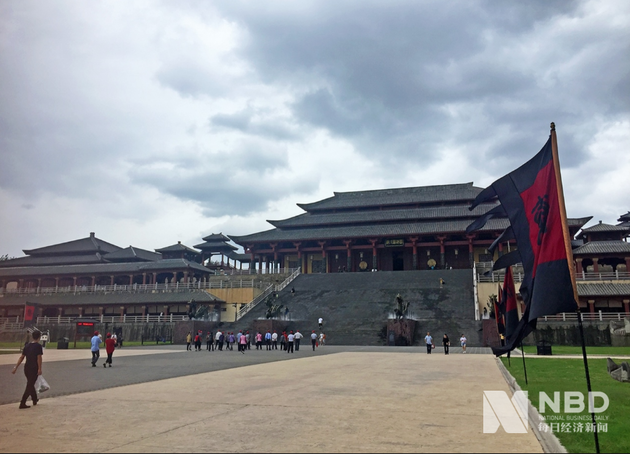 File photo/Ding Zhouyang (NBD)
Actors, cameramen and lighting engineers are busy in film studios; Internet celebrities hold mobile phones to start livestreaming on the street; vendors set up their food stands when night falls.
After more than 100 days on pause, "Chinese Hollywood" Hengdian has restarted.
Located in the eastern Chinese city of Dongyang, Hengdian World Studios is one of China's biggest film and television program production centers and a barometer of the film industry.
Film shootings were restricted for months due to the COVID-19 epidemic. As the epidemic wanes, more than 40 film and teleplay crews have started operation in Hengdian as of May 22, while over 60 others are preparing to restart studio shootings.
In the fight against COVID-19, the Hengdian World Studios has implemented strict epidemic prevention and control measures, said Zhou Fenglai, head of the actors' guild of the studios.
"All extras should register their travel history and report body temperatures twice a day, and people who came from major areas with a high risk of infection were required to undergo concentrated quarantine," Zhou said.
Dongyang in Zhejiang Province has released a slew of supporting policies to boost the work resumption of Hengdian.
The city government has allocated 10 million yuan (around 1.4 million U.S. dollars) to subsidize the venue and equipment rents and accommodation and cut or exempt taxes and fees for epidemic-hit film and television production companies.
To help those stranded in Hengdian tide over the difficulty, Hengdian World Studios has offered living subsidies for extras. Some extras even became local factory workers or food deliverymen to keep their dreams alive.
"My father always hopes that I would return to my hometown and land a stable job, but I insist on staying here to chase my dream," said 27-year-old Li Haishan, an extra in Hengdian.
As a stand-in, Li often rode on horseback in films or TV series. This time, what he rides is a motorbike to pick up and deliver food for the online food delivery platform Eleme.
"At least I could keep working as a rider," he said.
As many actors and actresses are back, Li plans to look for roles that he can play while continuing his delivery job.
"I have stayed in Hengdian for months. The hardest times will be over soon," he said.
Hengdian is the shooting base for one-fourth of China's movies and one-third of its TV series, with more than 64,000 episodes shot.
When producer Huang Jinmei arrived in Hengdian in mid-April, the street was empty and quiet. Now the hustle and bustle seem to come back.
"In film industry, as long as you can control the budget and provide high-quality products, there must be a place for you to survive," Huang said.
Producer Bao Mengmeng is hopeful about the future of the film industry.
"Although we are encountering more challenges, we can spend more time polishing our scripts and keeping good connections with big platforms. In such a hard time for the whole industry, I believe that the fittest survive and quality prevails," she said.
Email: gaohan@nbd.com.cn