On the night of HK secondary listing, NetEase CEO makes livestreaming debut, selling products worth $10mln in 4 hours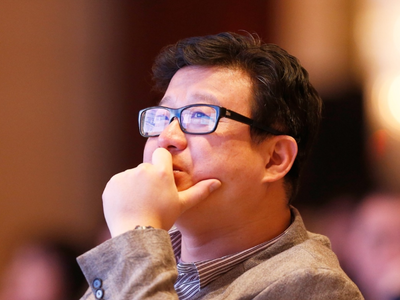 Ding Lei (Photo/VCG)
June 12 (NBD) -- Ding Lei, CEO of NetEase (9999.HK), debuted in live-streaming selling on Thursday, the same day when shares of the Chinese internet and gaming company started trading on the Hong Kong bourse.
Attracting a total of 16 million viewers, Ding sold products worth 72 millon yuan (10.1 million U.S. dollars) within four hours.
The products offered during the live-streaming come from NetEase's e-commerce app Yanxuan. Person in charge of Yanxuan disclosed to media agencies that live-streaming will be operated as an independent section.
Yanxuan making foray into live-streaming
During the four-hour live-streaming on Thursday night, Ding Lei introduced more than 40 products ranging from food and electronic devices to membership cards of NetEase-backed apps.
The activity drew 16 million viewers cumulatively, and during the peak, 1 million users were online at the same time.
Jumping on the bandwagon of livestreaming selling, NetEase is groping for ways to boost its e-commerce business. The related person in charge of Yanxuan revealed that live-streaming will be operated as an independent section.
In fact, Yanxuan has already begun deployment in the live-streaming field. The platform launched broadcast function on May 29 and it announced a star plan on May 26 to welcome 100 MCNs and 1,000 excellent live-streamers from online platforms such as short-video app Douyin and Kuaishou, social media Weibo and marketplace Taobao.
Data provider iiMedia Research predicted that the e-commerce broadcasting industry will grow to 961 billion yuan in market size in 2020, rising 111 percent from 433.8 billion yuan for last year.
E-commerce remains key strategy of NetEase
On Thursday, Ding Lei also witnessed NetEase's listing at Hong Kong's stock exchange, 20 years after the company's debut in the U.S. stock market. Since the company got listed in 2000, its share prices increased by over 90 times the offering price and it achieved average annual return of 26.2 percent.
NetEase shares jumped sharply on the first day of trading in Hong Kong but closed 1.15 percent lower on Friday.
The 23-year-old firm is now the world's second largest mobile gaming firm following Tencent, according to statistics from market researcher App Annie.
As gaming remains NetEase's key business and growth engine, the company has been seeking for new growth contributors for years. E-commerce market is one of the sectors NetEase counts on. In early 2019, Ding Lei announced gaming, e-commerce, education and music as four main strategies of NetEase.
Kaola and Yanxuan, once the two major e-commerce platforms of NetEase, started operation respectively in 2015 and 2016. The two apps generated 11.67 billion yuan for NetEase in 2017 and Kaola became top cross-border e-commerce platform in China.
However, facing high costs and fierce competition, NetEase sold Kaola unit to Alibaba Group for 2 billion yuan in September last year. With launching of live-streaming, Yan xuan, as NetEase's only business in the e-commerce sector, is expected to bring business growth this year, according to some industry insiders.
Email: gaohan@nbd.com.cn