Stock of Amgen-backed BeiGene soars on $2.1 bln share offering, the biggest in bio-tech sector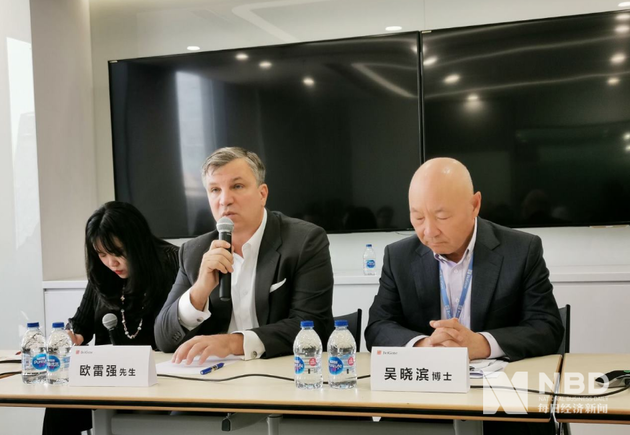 Wu Xiaobin, President of BeiGene (R) [File photo/Hua Ang (NBD)]
July 15 (NBD) -- Stock of BeiGene (06160.HK), a globally-focused Chinese biopharmaceutical company, jumped 7.59 percent higher Wednesday, closing at 147.4 Hong Kong dollars (19.0 U.S. dollars) per share, the highest since its debut on the Hong Kong bourse.
BeiGene's share prices on the New York stock exchange also hit a record high Tuesday, soaring 11.24 percent to 236.95 U.S. dollars per share.
National Business Daily (NBD) noticed that the hike was fueled by the company's offering of more than 145.8 million ordinary shares which were sold on Monday at a price of 14.2308 U.S. dollars each (equivalent to a price of 185 U.S. dollars per American Depositary Share). The gross proceeds would stand at 2.08 billion U.S. dollars.
According to the company, the proceeds will be used for clinical research and development, business operations, etc.
It's worth noting that the stock offering is the largest equity financing ever by a biotech company, and is expected to close on Wednesday.
"Major buyers in the deal include Hillhouse Capital, investment firm Baker Brothers and American drugmaker Amgen," said Liang Heng, CFO and Chief Strategy Officer at BeiGene.
All purchasers in this deal will hold a 65.81-percent stake in total in BeiGene after the transaction is completed.
NBD observed that BeiGene's last major fund-raising happened in January 2020, with Amgen purchasing a 20.5-percent stake in the former for 2.8 billion U.S. dollars.
Founded in 2011, BeiGene is a company dedicated in novel therapeutics for cancer.
According to its financial reports, from 2013 to 2019, the combined losses of the company reached over 13 billion yuan, which was resulted from its high R&D expenses. From 2013 to the first quarter of 2020, BeiGene's investment in R&D totaled over 15 billion yuan. However, currently BeiGene only has two kinds of self-developed drugs sold on the market.
This is why the company relies on financing. Statistics revealed that the total financing volume since BeiGene's inception has exceeded 4.48 billion U.S dollars.
With the ongoing Covid-19 epidemic, some are concerned about the future of bio-tech companies. Wu Xiaobin, president of BeiGene, showcased his confidence, "Our latest financing could be a response to the question. China's economy will move on and biopharmaceutical firms will continue to rise as investors are bullish about the industry."
Email: gaohan@nbd.com.cn