A visit to Chengdu Tianfu International Airport: Sunbird taking off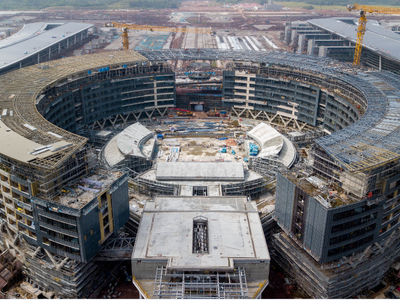 Aug. 20 (NBD) -- The construction of Southwest China's Chengdu Tianfu International Airport is now being carried out smoothly.
The airport, featuring two terminal buildings in the shape of the mythical Sunbird, is expected to be put into use in 2021.
At the time, the airport will boast an annual freight throughput of 700,000 tons, and in the future, it will handle an annual freight throughput of 2 million tons and annual traffic movements of 710,000, said Wu Ding, deputy commander and general engineer of the construction headquarter at Chengdu Tianfu International Airport, and deputy general manager of Sichuan Province Airport Group Co Ltd, in an interview with National Business Daily (NBD).
According to a person-in-charge at Chengdu Tianfu International Airport, by 2035, the annual passenger throughput will surpass 100 million, making the airport one of the super aviation hubs with such a scale.
On August 20, an important event, dubbed "Convergence of Scenes – Chengdu Eastern New Area Meets the Future" which is part of the 2020 Chengdu New Economy Double Thousand Project, is launched at Chengdu Tianfu International Airport.
The event highlights the airport which is taking an initial shape. Wu Ding and the person-in-charge are giving more details.
More international routes, more open to the world
"After Chengdu Tianfu International Airport is put into use, all international routes will be shifted to it," said the above-mentioned person-in-charge to NBD, adding that international flights will be expanded with reams of new destinations to be announced.
"By focusing on countries alongside the 'Belt and Road Initiative', we will enhance the frequency of flights to these countries in an attempt to improve accessibility and smoothness, and satisfy the growing demand for inbound and outbound tourism," expounded the person.
"We'll also introduce new destinations in Central and Northeast Asia as well as other regions to boost the development of emerging tourism markets," the person-in-charge noted, "A handful of new destinations in major economies including the U.S., Australia and some European countries will be added and more long-distance international flights will be offered."
"Additionally, an array of new destinations in South America, Africa, the Middle East and other regions will be selectively opened to upgrade global reachability," he added.
In this way, Chengdu will be more attractive to the global high-end resources, and Chinese and Western cultures will be better converged here, according to the person-in-charge.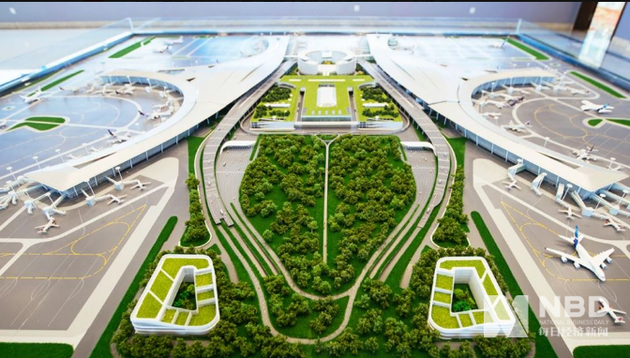 File photo/Zhang Jian (NBD)
A green, people- and culture-oriented airport
Comparing with its counterparts, Chengdu Tianfu International Airport enjoys several highlights in terms of its planning and construction.
The airport is the second one in China to employ lateral runways, Wu Ding told NBD. "The airport is located in the southwest, and 70 percent of the flights are heading east, therefore lateral runways will reduce the route distance," he said.
"Also, the design is based on the fact that airspace conditions in the east are better and on the demand for lowering noise for people in the north."
In order to make it more convenient for tourists, Chengdu Tianfu International Airport is putting a lot of effort in the comprehensive transportation.
"We are taking the lead in China in constructing separated terminals. To make it easier and faster for the passengers to transfer from one terminal to another, we've planned a transport system combining highspeed railway, subway and PRT," noted Wu Ding, "It only takes 6 minute to transfer from T1 to T2 via PRT."
Another distinctive feature is illustrated in the green concept in its construction. "The airport is using clean energies in most of its sections," Wu introduced, "Based on the concept of 'sponge city', we've designed a circulation system for rainwater by retaining a lake on the original site. And a park centering on the lake is to be built for the leisure of tourists and staffs."
In addition, the airport is actively injecting "Tianfu Culture" into landscape greening, interior decoration, etc., opening a gateway for global travelers to embrace the local culture.
Email: gaohan@nbd.com.cn