Bold, lively and fun, Chengdu shows increasing pull for businesses and visitors worldwide: Monocle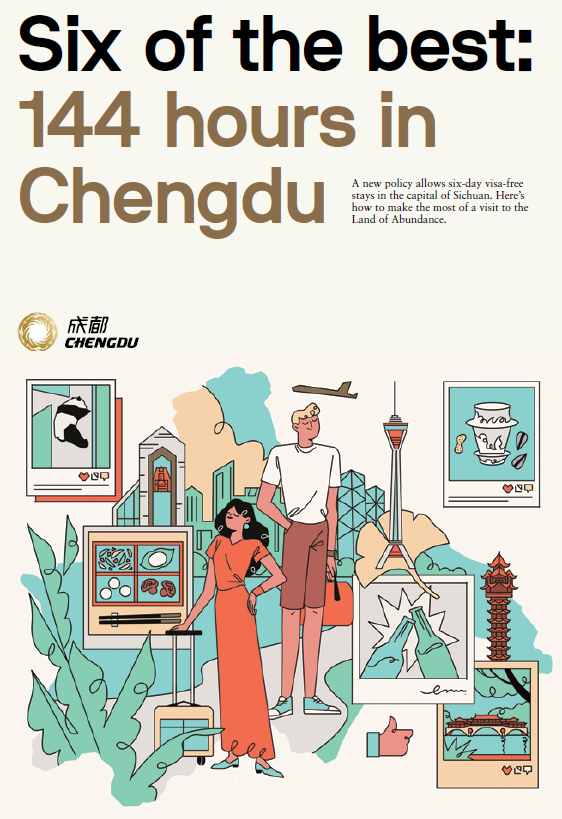 After an Airbus 350 took off from Chengdu Tianfu International Airport on June 27, the second international airport of the capital city of Sichuan Province officially started operation. After Beijing and Shanghai, Chengdu became the third Chinese city with two international airports.
Researchers have pointed out that Chengdu is in the middle of the busy Europe-Australia air routes. As the second airport is put into use, Chengdu is better positioned to compete with Dubai, China's Hong Kong, Singapore and other cities for international transit passengers.
Renowned lifestyle magazine Monocle has definitely seen the potential in Chengdu. In the June issue, Monocle noted that Chengdu, with the new policy allowing 144-hour visa-free stays, gives international transit passengers an easy entrance to the city. Based on that, the magazine offers a well-orchestrated guide to the city, covering food, shopping, culture, hotels, and green spaces. 
"Bold, lively and fun, Chengdu is a city that knows when to turn up the heat as well as when to slow down," so Monocle summed up the increasing attraction of Chengdu for businesses, diplomats, and visitors.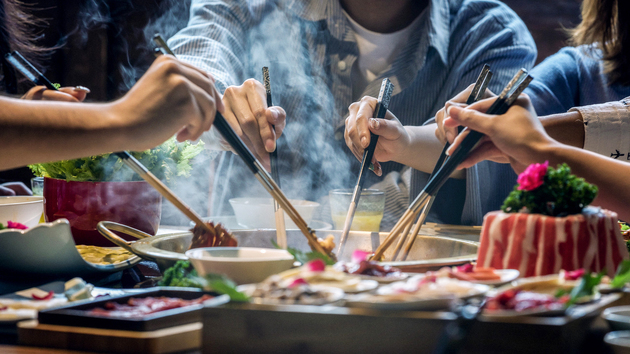 Photo/Shetuwang
Tucking into hotpot definitely a must-try
From "dandan noodle" to "mapo toufu", Monocle noted that people in Sichuan have developed an amazing variety of food using the potent chilies and pepcorns, but that is not the whole story. Smart chefs in the city have also reinterpreted some Sichuan cuisines into sophisticated versions. Here are three of dining and drinking venues picked by Monocle.
Hotpot is the most popular dish in Chengu, and can be seen everywhere. For Monocle, the #8 restaurant on the top floor of the Grand Hyatt stands out. The place is sleekly designed, with delectable take on tradition like reconstruction of market stalls and wicker baskets hanging from the ceiling.
The Bridge, as the name suggests, is set on the Anshun Bridge, one of Chengdu's most recognizable landmarks. The restaurant is led by renowned chef André Chiang, who received classical French cuisine training and previously worked at Michelin-starred restaurant. Chiang brings a more refined touch to Sichuan cuisine, while being respectful to its tradition and flavors. 
For drinking, Monocle recommends The Tasting Room, which is located between shops in the Jinjiang District with unassuming façade. Adorned with woven bamboo screens, the venue is cleverly divided into two spaces. At the front is the Creddie Workshop with breezy atmosphere for the day, while the dimly lit bar at the back is perfect for drinking in the evening.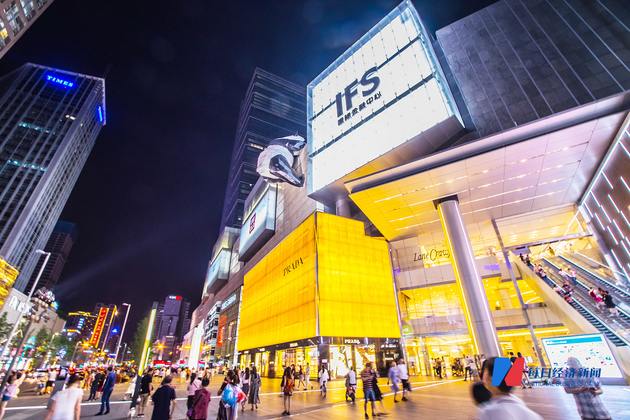 File photo/Zhang Jian (NBD)
High reputation for unique sense of style 
Chengdu has become a serious contender for high-end retail for both its fashion sense and spending power. Many international brands have chosen the city as frontier for expansion in China. The shopping centers like Taikoo Li and IFS in downtown Chengdu boast both numerous brands and design credentials.
Launched by the French maison Hermès and now majority-owned by Italy's Agnellis family, Shang Xia's fashion, furniture, and leather goods, however, are deeply rooted in Chinese tradition. Its store in Taikoo Li serves as a springboard for expansion in Southwest China. Renowned Japanese designer Kengo Kuma used the subtle tones of bamboo to contrast with bolder architectural details when designing the store.
Hug is one of Chengdu's earliest multi-brand boutiques, and has been shaping the clothing aesthetics of Chengdu people since its launch. The new Hug store, located in the Jingronghui Shopping Centre, is expanding the store's aesthetics with futuristic decorations.
Italian luxury leather-goods brand Valextra chose Chengdu to set up its second store in China, after Shanghai. The outpost in Taikoo Li was designed by Shanghai-based designers Neri & Hu, who combined Chinese and Italian elements to create a store that resembles a mahogany library, with leather bags displayed on shelves like books. The store also has a narrow window intended to lure curious passers-by.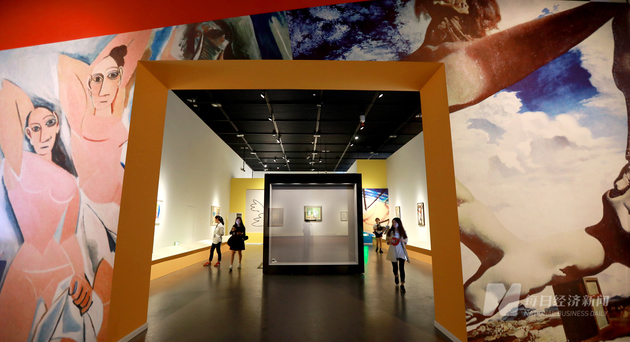 File photo/Zhang Jian (NBD)
A soothing place for spiritual nourishment
From books to music and contemporary art, more and more interesting cultural spaces have emerged in Chengdu. An increasing number of neighborhoods have been reinvigorated by creative talents who brought culture to the community, and these innovative models have caught international attention and interest.
Fang Suo Commune is an enormous bookshop inside the Taikoo Li shopping center. Taking an escalator down to the two-story basement, people will be impressed by the copper-hued space and the giant concrete columns. Besides the thousands of books displayed, there are plants, clothes, homeware, and international magazines on the floor. A café and a space for exhibition and talks encourage visitors to linger longer.
The Chengdu Concert Hall is a perfect combination of architecture and engineering. The structure was completed in 2019, and has a large auditorium, opera hall, theatre and smaller concert stage, allowing all types of performances. Bonn-based organ-maker Klais supplied the instruments with perfect acoustics.
Founded in 2007 by Liu Jie, art gallery 1,000 Plateaus is dedicated to discovering and fostering emerging artists in China. Besides exhibitions, 1,000 Plateaus also engages in art education courses and publishing projects, and participates in international art fairs like Liste in Basel. Chengdu-based photographer Feng Li is one of the local artists featured in the gallery.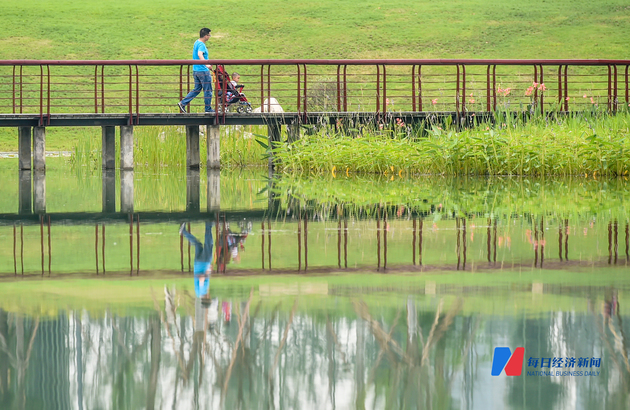 File photo/Zhang Jian (NBD)
Abundant green spaces ideal for short getaways
While Chengdu is one of China's biggest and most populous cities, it stands out for its high coverage of green spaces. The city boasts 40 percent of green coverage in the downtown area, while one third of the whole municipality is covered by forests. It's easy to find a spot for either a slower life in the city or a day away from the urban buzz. 
Located about 68km away from Chengdu, Mount Qingcheng is one of the four Taoist mountains in China, and it's listed as a World Heritage Site. The mountain is the best place for a hiking escape away from the city. The Front Mountain route passes through many ancient Taoist palaces, offering a cultural hike. The Back Mountain route is surrounded by wilderness, allowing people to be immersed in nature.
Qinglong Lake Wetland Park is the biggest of its kind in Chengdu, and serves as "the green lung of the city" with about 2,000 green hectares. A 3.3km smart jogging path surrounds the lake, and with technologies like IoT, big data, and AI, runners can monitor their movement data in real time.
Tianfu Hibiscus Joy park is ideal for family time. The 100-hectare ecological theme park sits on the side of the Ring Expressway and has 300 different species of plants besides the colourful hibiscus flowers. In summer visitors can enjoy the large field of splendid sunflowers.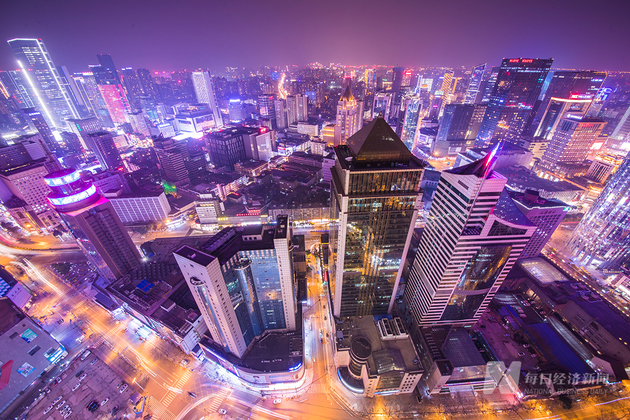 File photo/Zhang Jian (NBD)
Hospitality scene upping the game
Monocle noted that a few new hotels in Chengdu have redefined the aesthetics of high-end hotels in the city. Two of them in the city center stand out for their contemporary class as well as homely feelings.
Repurposed from a Qing-dynasty courtyard building, Temple House is located in Taikoo Li and sits in the grounds of the renowned Daci Monastery. London-based studio Make Architects designed the contemporary extension, which combines minimalist modern style with traditional Sichuan elements. Apart from 100 rooms, Temple House has a French bistro, an Italian restaurant and a delightful teahouse.
Named after Italian explorer Marco Polo's father, the hotel Niccolo conveys a modern and bright ambience. The huge windows in its rooms offer a good view of the IFS buildings below. The Yue Hin restaurant in the hotel serves Sichuan and Cantonese cuisine, and there is also a great Italian restaurant. After a satisfying meal, you can work out at the gym with panoramic views, and take a sauna afterwards.
Email: lansuying@nbd.com.cn